X-Men's Days Of Future Past's Omar Sy Lands Jurassic World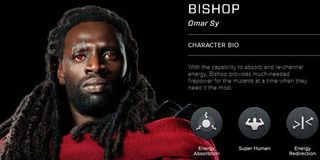 Big things are happening for French actor Omay Sy. First he was an art house darling, then he was a critical darling, soon he'll be a full-fledged member of the X-Men, and now he's set to join one of the most anticipated films of 2015, Jurassic World.
Coming Soon tipped us to the tweet where Sy proudly announced to the world that he'd be joining the fourth installment of the adventure franchise, following Jurassic Park, The Lost World: Jurassic Park, and Jurassic Park III. He tweeted the thrilling news in both English and French!
Jurassic World director Colin Trevorrow then followed suit, confirming the casting en français well!
This translates to: "Very pleased to welcome @ OmarSy Jurassic World."
Sy will be joining a cast that already includes Guardians of the Galaxy's Chris Pratt, Bryce Dallas Howard, Vincent D'Onofrio, and BD Wong. Remarkably, the story for Jurassic World has so far remained largely a mystery, so as this point we have absolutely no idea what role Sy has signed on for. But for all that we do know about the movie so far, check our handy guide.
As to Sy, you might have noticed him in a small role in Jean-Pierre Jeunet's eccentric crime-comedy Micmacs. But he broke through in a major way in 2011 with the charming French dramedy The Intouchables. The film unfolded the remarkable story of a recently crippled aristocrat who bonds with his gruff caretaker (Sy), a no-nonsense young man from the projects. The Intouchables went on to become the second highest grossing French film of all time in the nation's domestic box office. It earned Sy international acclaim as well as a César Award for Best Actor (essentially the French equivalent of the Oscar).
An English-language remake is in the works, but more to the point, The Intouchables brought Sy to the attention of Hollywood filmmakers. Soon he was cast as Bishop in X-Men: Days of Future Past , which will hit theaters in on May 23rd 2014. As someone who was blown away by Sy's screen presence and talent in The Intouchables, it's thrilling to see him handed such big projects. Personally, I can't wait to see what he makes of them.
Staff writer at CinemaBlend.
Your Daily Blend of Entertainment News
Thank you for signing up to CinemaBlend. You will receive a verification email shortly.
There was a problem. Please refresh the page and try again.