Yet Another Historical Dracula Movie Set Up At A Studio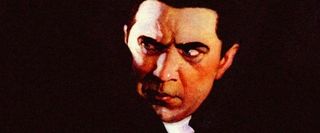 If you've been keeping track of all the Hollywood Dracula movies in development or in production right now, you've probably got a pretty fierce headache for your troubles. With the Twilight saga winding down, the vampire craze seems to have looked toward the past, and right now everyone from Adam Sandler to Park Chan-Wook is involved in some kind of story about the classical bloodsucker. Is there any reason to add another Dracula story to the pile? Of course not! But that won't stop them from doing it anyway.
According to Deadline, Sony has purhcased a pitch from writer Jason Keller that will tell Dracula's origin story-- yes, this time the character is getting the superhero movie treatment. Sony admits they intend to start a period franchise, and with Keller credited for the upcoming Snow White reimagining Mirror Mirror, that might put two franchises on his plate. He's also involved, believe it or not, in another vampire story, an adaptation of the book The Passage that Let Me In's Matt Reeves plans to direct. And as Deadline points out there's even another Dracula origin story out there, Dracula Year Zero, which has Gary Shore looking to direct.
Sometimes when you get all these similarly themed projects in development, it's a race to see who can go into production first and put all the other ones out of business. Sometimes you get a situation like this year's dueling Snow White movies Mirror Mirror and Snow White and the Huntsman. With Park Chan-Wook's Stoker already out of production, it doesn't seem to have scared off the other historical vampire movies, so let the races begin. We may be as sick of Dracula as we are of teen vampires by the time this is finished.
Your Daily Blend of Entertainment News
Staff Writer at CinemaBlend
Your Daily Blend of Entertainment News
Thank you for signing up to CinemaBlend. You will receive a verification email shortly.
There was a problem. Please refresh the page and try again.