New York Museum's Jim Henson Gallery Will House Hundreds Of Muppets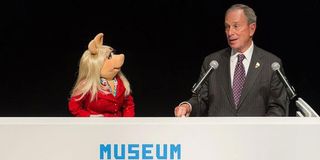 Movielovers of New York have long flocked to The Museum of the Moving Image in Astoria, Queens, where four stories of exhibits offer a hands-on history to the evolution of the film medium. The museum has been host to a bevvy of traveling exhibits and showcase screenings, but their latest will thrill Muppet lovers near and far. At a special press event earlier this week, Mayor Michael Bloomberg (with some help from Miss Piggy) announced the creation of a special gallery devoted to the works of Jim Henson.
Henson and his Muppets have been recurring figures in the museum's exhibits. They recently took in the touring "Jim's Henson's Fantastic World," which included displays of Rowlf, Bert, Ernie, and Miss Piggy in her wedding dress circa Muppets Take Manhattan (full Disclosure: seeing the Miss Piggy dress in person made this reporter cry. And I wasn't alone). The museum has also shown many of the Muppet movies, as well as every episode of The Muppet Show in their in-house theaters. But the newly announced exhibit will be far grander than any before.
Supported by the City of New York and Henson's family, the new Henson exhibit at The Museum of the Moving Image will house nearly 400 puppets, costumes and other props used in various Muppet film and television productions, including The Muppet Show, Sesame Street, Fraggle Rock, and The Dark Crystal. Among the Muppets presented in the displays will be Kermit the Frog, Miss Piggy, Elmo, Ernie, Bert, Count von Count, Gobo Fraggle, the Swedish Chef, Statler, Waldorf, and many many more. Geeking out is a totally understandable reaction. Let's do it together:
The exhibit, which will fill a 2,200-square-foot gallery, is slated to open in the winter of 2014. And just a fun fact for those of you who plan to check it out, you'll be just yards away from the real Sesame Street, as the show is still shot at Kaufman Astoria Studios, right next to the museum.
You can watch Mayor Bloomberg's announcement of this thrilling new exhibit below:
Your Daily Blend of Entertainment News
Staff writer at CinemaBlend.
Your Daily Blend of Entertainment News
Thank you for signing up to CinemaBlend. You will receive a verification email shortly.
There was a problem. Please refresh the page and try again.