Zack And Miri Make Porn IDs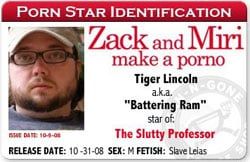 The buzz over Zack and Miri Make a Porno keeps getting bigger. In response The Weinstein Company has put together a brand new, shiny website for the film filled with some of the usual stuff you might expect to find on any website dedicated to a movie about two shlubs making porno, along with one thing that's slightly less usual.
If you head over to ZackAndMiriStarID.com you'll be able to make your own porn ID. I don't know if porn stars actually carry ID's, but if they did I imagine they'd look a lot like the one I've posted with this story, which is in fact… mine. Actually, a real porn star's ID would probably look less, well, creepy. Hi I'm Tiger Lincoln and they call me "The Battering Ram". You might recognize me from such films as The Slutty Professor, or if you wore a gold bikini to this year's Comic Con, you probably noticed me stalking you from afar.
Have some fun making fun of… er… yourself by heading over to ZackAndMiriStarID.com, then show off your sweet Zack and Miri porn identification, certifying you as a real, honest to god, professional… um… well in my case, Battering Ram. Hi ladies!
Your Daily Blend of Entertainment News
Thank you for signing up to CinemaBlend. You will receive a verification email shortly.
There was a problem. Please refresh the page and try again.