Zoe Kravitz Blasts The Dark Knight Rises For Offensive Reason She Couldn't Audition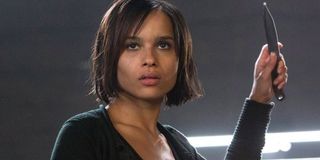 The concluding chapter to Christopher Nolan's celebrated Batman trilogy in 2012's The Dark Knight Rises showcased a number of intriguing female characters. However, one notable actress who was unsuccessful in an apparent attempt to join that group was Zoë Kravitz. In a recent interview, the actress reveals the rather offensive reason she was allegedly given for her failure to land the Gotham City gig.
In an interview with Nylon, Kravitz discusses her personal mandate to pick roles that progress the poignancy of female characters. However, despite being the daughter of rocker/actor Lenny Kravitz and actress Lisa Bonet, the 26 year-old actress claims to actually hit occasional roadblocks when it comes to her mixed ethnicity. Kravitz reveals that in an attempt to simply audition for a role in The Dark Knight Rises, her chances apparently fell victim to some horrendous stereotyping. As she explains:
Other than describing the mysterious role as "small," Kravitz did not reveal the particular character for which she intended to audition. Thus, not having that bit of information, it may be difficult to fully fathom the context of this apparent proactive rejection. However, should the idea prove true that the TDKR casting staff relegated her acting offerings to being "urban," simply based on her ethnicity, then it would obviously be an inexcusable notion, regardless of the role. Yet, if we were to venture a guess as to what character Kravitz was attempting to land, then the part of "Jen," the larcenous accomplice of Selina Kyle/Catwoman, ultimately played by the blue-eyed Brit, Juno Temple seems to be a good fit, given the approximate age of the character and Kravitz's level at the time.
Kravitz's career has nevertheless come quite a long way since that rather disheartening setback. In fact, she cites her role in the recent Mad Max: Fury Road as an example of the kind of empowering parts she wishes to pursue. Playing one of Immortan Joe's embattled enslaved wives, Toast the Knowing, she sees the scantily-clad, but powerful role as the definitive groundbreaking moment that fulfilled her personal mission of portraying stereotype-shattering feminism. She also makes it clear that the names of her famous parents have not factored into the landing of her key roles, including director George Miller's recent Mad Max follow-up. In shooting down the notion of her acting career being buttressed on nepotism, Kravitz states:
Of course, even at the time of the TDKR audition incident, Kravitz could already cite being part of 2011's X-Men: First Class as Angel Salvadore, which opened several doors with roles in a number of other big-budget tent-pole franchises. She also wound up with the role of Christina in last year's dystopian YA franchise launcher, Divergent, which she reprised in its sequel, Insurgent earlier this year and will do so again in the two parts of the conclusion, Allegiant in 2016 and 2017. Thus, Kravitz's status as something more than an "urban" attraction does seem to be cemented, contrary to the alleged opinion of some players in the industry.
Your Daily Blend of Entertainment News