Fantastic Beasts Comic-Con Trailer Is Full Of Magic, Beasts And Mayhem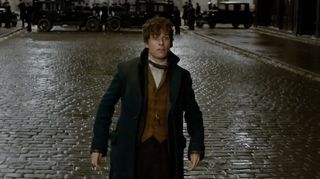 Newt Scamander has made his way to Comic-Con, and with him arrives a new trailer for the anticipated Fantastic Beasts and Where To Find Them. This new look at the Harry Potter spinoff/prequel gives us a glimpse at more than a few awesome creatures. Check it out...
Let's just pause for a moment and applaud that spectacular display of magic and mayhem...
Dan Fogler's Jacob said it best with his closing "I want to be a wizard."
Don't we all, Jacob! I also wish it were closer to November 18, when Fantastic Beasts arrives in theaters.
Much in the way WB has taken its time in revealing some of the promised fantastic beasts in this Harry Potter offshoot, the Comic-Con trailer for Fantastic Beast and Where To Find Them builds up the suspense with a voiceover of an anxious sounding man talking about something he's seen. Something with shining white eyes, that dove down underground. A building has been almost completely destroyed.
Fantastic Beasts tells the story of Newt Scamander, author of the textbook that Harry Potter and his friends would go on to study from some seventy years later. In the film's present, however, Newt is just arriving in New York, and there's a problem. The magical beasts he's been collecting and studying have escaped and are making a mess of New York City. From this new trailer, it sounds like Newt is as (if not more) concerned about the wellbeing of his beasts as his is the wellbeing of the no-maj people they encounter. After all, non-magical folk are known to attack when threatened.
Among the glimpses of the film, we get a second or two of this guy...
Is it possible that's Ron Perlman's character? I wouldn't put money on it or anything, as I'm not sure I see enough resemblance to feel confident about the guess, but we do know Perlman is playing a goblin character who owns a speakeasy. Between the bar-setting in the background and the look of the guy, he could just fit the bill.
In addition to showing us characters from the film, including Newt Scamander (Eddie Redmayne), Percival Graves (Colin Farrell), Henry Shaw (Jon Voight), Tina Goldstein (Katherine Waterston), Queenie Goldstien (Alison Sudol), Jacob (Dan Fogler) and Seraphina Picquerry (Carmen Ejoogo), the trailer offers up the goods in the form of numerous magical beasts and beings.
The trailer builds up some suspense, showing us the torn up streets of New York, and something light up, floating beneath the ice...
And things only get more interesting from there! We gif'ed a few more glimpses of the beasts, which you can check out on the pages ahead.
We see Jacob get attacked by something that flies out of his (or Newt's?) case...
This one looks like it might be a griffin.
And we had to brighten the image on this terrifying thing, lurking in the shadows. It's got a beak and is covered in scales. A dragon, perhaps? Or maybe an Occamy?
There are some furry and feathery beasts abound in the trailer as well, including the one Newt catches above, and this guy on the run...
Assistant Managing Editor
Kelly joined CinemaBlend as a freelance TV news writer in 2006 and went on to serve as the site's TV Editor before moving over to other roles on the site. At present, she's an Assistant Managing Editor who spends much of her time brainstorming and editing feature content on the site.
Your Daily Blend of Entertainment News
Thank you for signing up to CinemaBlend. You will receive a verification email shortly.
There was a problem. Please refresh the page and try again.