Moana Has Finally Revealed Its Full Cast Of Characters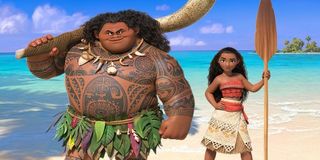 As it has been proven time and time again, Disney's animated films tend to have the most colorful of casts, from both sides of the species barrier. The gallery of characters for their latest film, Moana, is certainly no exception, as human and animal alike are present in the story of a young Polynesian princess who has a gift for navigation and a kinship with water. Up until now, we've only been given proper looks at Moana, Maui, and Moana's pet pig. Tonight, that's about to change, as we have a bunch of new character photos from the entire cast of Moana, and we're about to share them with you right now, thanks to Disney themselves.
Who better to start with than our protagonist, Moana herself! Described as, "a teenager who dreams of becoming a master wayfinder," our titular princess has always had a special influence over water. With the help of the demi-god, Maui, Moana will embark on an adventure that will take her into the unknown, and deep into the waters she calls friend. Voicing our hero whose name is the very title of the film is first time actor Auli'i Cravalho, who was chosen after an extensive talent search held on Disney's behalf.
A recurring theme in Moana seems to be the egos of some of the supporting characters in her world. And no one has a healthier ego that her demi-god partner in crime, Maui, who is voiced by none other than Dwayne "The Rock" Johnson. Described as, "half god, half mortal, all awesome," Maui will accompany Moana on her quest to become a master wayfinder, as well as find time to tell a story or two of his previous exploits through his magical tattoos.
Since Wreck-It Ralph, no Disney animated film has been complete without two required components: a quirky sidekick, and the voice of the "good luck charm" known as Alan Tudyk. Well in Moana, both of those elements are combined into HeiHei: a derpy rooster that qualifies as "the village idiot." Though he doesn't seem that dumb to us, considering he hitches a ride on Moana's raft for the adventure of a lifetime. Of course, there are pretty good odds that he didn't mean to do that.
With a character like Pua in Moana, you're pretty much getting what you see in the promo photos. According to his official description, our litle pig friend is described as follows:
You can already tell by his posture in the photo above, as well as his limited interaction in the teaser trailer, that Pua is going to be the plush doll kids are going to want to walk home with after seeing Moana. Though, don't be surprised if some adults are seen getting in on the action too.
Another one of the character sets we assume to be without dialogue, the Kakamora are, "an intense team of crazy, coconut-armored pirates who will stop at nothing to get what they want." What they could possibly want is beyond us, considering we're not all that fluent in the language and desires of the modern coconut. What we can do is venture a guess at is that our Kakamora friends aren't villains so much as they're the determined comic relief who have a quest, and will naturally pursue it to all ends. Sounds like a good set of allies to have in your corner when the fighting breaks out.
Any proper Disney princess needs a family worthy of the royal way to descend from, with Chief Tui and his wife, Sina, taking the throne in the world of Moana. While both are proud of their daughter, and in hopes that she'll find herself without having to leave the reef that separates their kingdom from the outside world, Tui and Sina want only what's best for their daughter. Voicing Tui is the man behind Jango Fett in the Star Wars prequels, Temuera Morrison, while the vocals of Sina come from Grammy nominated recording artist, and former Pussycat Doll, Nicole Scherzinger.
Of course, while Moana's parents may want her to stay home for the rest of her life, as a ruler of their tribe, Gramma Tala is encouraging of Moana's more adventurous side. Though it does help that the two of them share the same gift over the water, as Gramma tends to do what any good Disney sage would do: spur our protagonist on with their adventure. Voicing the attitude of adventure and dissent in the otherwise perfectly regal family from Moana, is Rachel House, who was last scene in Taika Waititi's Hunt For The Wilderpeople.
And last, but not least, what Disney film would be complete without a brand new Disney villain to look forward to. In the case of Moana, we have Tamatoa, a 50 foot crab who lives in the realm of monsters, more commonly known as Lalotai. And voicing this flashy, yet menacing crustacean is a man who's played a villain or two in his time, Flight of the Conchords' Jemaine Clement. You can think of Tamatoa as the King Louie of the Moana universe, as he's looking to ascend his station in the world, and likes to draw attention to himself by donning shiny objects on his shell. To say that we're looking forward to his pre-requisite Disney villains' song is an understatement, especially with Clement's scary but smooth pipes in the role.
You can ride the waves of adventure with Moana, and its cast of various human and animal characters, on November 23rd.
Your Daily Blend of Entertainment News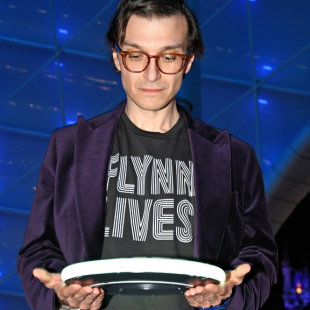 Senior Movies Contributor
CinemaBlend's James Bond (expert). Also versed in Large Scale Aggressors, time travel, and Guillermo del Toro. He fights for The User.