Jared Leto Just Shared A New Intimate Suicide Squad Image, Check It Out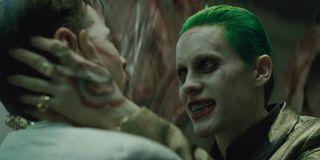 With less than a week until Suicide Squad hits theaters, our anticipation for David Ayer's upcoming supervillain ensemble has never been higher. One aspect of the film that has us most excited is the first ever live-action depiction of The Joker and Harley Quinn's demented relationship. It's an iconic element in the DC mythos, and we cannot wait to see how Jared Leto and Margot Robbie bring that dynamic to life. In fact, Jared Leto has just released a new Suicide Squad photo that should get any fan of the source material excited about the film. Take a look for yourself below.
Jared Leto recently posted a photo to his Instagram account depicting Joker and Harleen Quinzel sitting opposite one another in Arkham Asylum. Joker is bound in a straight jacket, and Dr. Quinzel moves intimately close to him, seemingly intent on kissing him. We've seen photos of this scene before, but this is the first picture that gives us any indication that pre-Harley Harleen will develop feelings for Joker during the flashback sequences in Suicide Squad.
As fans of the greater DC mythos, we cannot even begin to express how awesome it is to see this photo. Up until now most of the Suicide Squad marketing material had shown Harley Quinn's origin as taking total inspiration from the New 52 incarnation of the character -- in which Joker essentially tortures an unwilling Harleen Quinzel into becoming Harley. This photo clearly indicates that Margot Robbie's version of Harley will have at least some level of attraction to the Clown Prince of Crime before actually becoming Harley Quinn, which is a depiction more in line with Bruce Timm and Paul Dini's original vision for the character.
Just take a look at this scene from Batman: The Animated Series and you'll instantly see where David Ayer took his inspiration:
The new Joker is clearly not a loner like Heath Ledger's Joker was. This photo shows us how seductive Joker can be when he gets under someone's skin. All we've seen up until this point is a character with a penchant for violence, but we can now clearly see that he has a certain level of charisma that can lull people into a false sense of security. Given the fact that this incarnation of The Joker seems far more political and willing to work with others, it's an incredibly important facet of his personality that David Ayer needs to get across in Suicide Squad.
We officially have less than a week to go until Suicide Squad hits theaters, and we have a feeling it could become the best DC film to date; we'll know for sure when Task Force X debuts on August 5.
Originally from Connecticut, Conner grew up in San Diego and graduated from Chapman University in 2014. He now lives in Los Angeles working in and around the entertainment industry and can mostly be found binging horror movies and chugging coffee.
Your Daily Blend of Entertainment News
Thank you for signing up to CinemaBlend. You will receive a verification email shortly.
There was a problem. Please refresh the page and try again.