Suicide Squad's Rumored Deleted Scenes Promise A Lot More Joker Material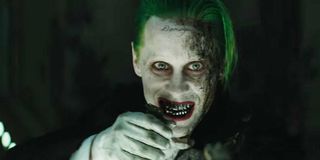 In the past week or so, Suicide Squad has become the subject of rumors that suggest the film's final form is a compromise forced by re-shoots, tone changes, and studio anxieties over the reception of Batman v Superman: Dawn of Justice. Of course, the most damning report came from one of the film's stars, Jared Leto, as he stated that a lot of footage featuring The Joker was part of the casualties incurred in such changes to David Ayer's allegedly flawed, but fun, thrill ride. Well, get ready for a lot more talk about these scenes to dominate the narrative in the coming days, as a list of supposedly deleted scenes from Suicide Squad has been revealed, and it sounds pretty legit.
Collider combed through two different Reddit boards that supposedly revealed a quite extensive picture of cut scenes and narrative changes that were made to Suicide Squad in the later phases of the film's gestation. And as sure as Harley loves here Puddin', a lot of those scenes feature Jared Leto's Joker interacting more with both Margot Robbie's Harley Quinn, but also with the Suicide Squad themselves! The extended and deleted scenes featuring the clown prince of crime spell out a very different love story between Harley and Mr. J, as his behavior towards her originally fell more in line with his aggressive, and for lack of better terminology abusive, treatment of his would-be love interest.
On top of Joker's mistreatment of Harley purposely being reshaped into a more lovesick storyline, there's a whopper of a deleted scene that saw the Joker using that grenade you see him holding in the image above. Apparently, that moment comes from Harley's refusal to leave her squad-mates at the request of her boyfriend, which results in him using said grenade to make his grand escape. Now while this list of footage is still very much rumored to be accurate, without any confirmation from anyone officially involved with Suicide Squad's production, there's one thing that makes us lean towards believing this list is accurate: a lot of the moments from the list are already in the trailers for the film.
Out of all of the moments listed in this list of Suicide Squad's greatest moments you never saw, there are just enough moments that were omitted from the final film to make us believe this list is pretty valid. In particular, Harley's moment of using her bat as a mock gun, Joker's promise to show Captain Griggs his toys, and even a couple more moments of the couple's pre-capture joy ride in the Lamborghini all managed to make the roster. Rounding out the list are moments that showed Slipknot and Captain Boomerang as pretty bad dudes, as well as the fact that Enchantress' origin story was supposed to be the film's opening, all paint a picture of a massively altered final product.
For the record, this author found Suicide Squad to be fun, but severely flawed. It wasn't a waste of time, but clearly the film that it intended to be was altered for something that seemed like a more public friendly product, and the overall narrative suffered from such tinkering. While the "final" cut of Suicide Squad is currently in theaters, DC's reliance on extended home video cuts has us hoping that there's an "Ultimate Edition" in the works for the Blu-ray version of the film. We're just saying, it'd be an awesome Christmas present to see a darker, more morally compromised version of this film playing out in front of our eyes.
Senior Movies Contributor
CinemaBlend's James Bond (expert). Also versed in Large Scale Aggressors, time travel, and Guillermo del Toro. He fights for The User.
Your Daily Blend of Entertainment News
Thank you for signing up to CinemaBlend. You will receive a verification email shortly.
There was a problem. Please refresh the page and try again.