The Sausage Party Coloring Book Is So Much More NSFW Than You'd Guess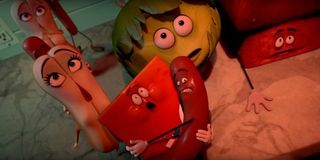 Sausage Party is the animated movie that you don't take your kids to unless you're a terrible parent who needs to have child services called on them. If it needs to be said out loud, the Sausage Party activity book is ALSO NOT FOR THEM. It's important that we're very clear on this fact. The book is not for them, this story about the book is not for them. We know what you're thinking, of course, the Sausage Party coloring book must be something very adult, but you really don't understand. It's so, so much worse -- or, possibly, better -- than that.
While product merchandising is always an important part of any movie release, unfortunately, you can't purchase the Sausage Party coloring book in any store. It was created by the Alamo Drafthouse and is only being given away at their locations while supplies last. The book was a joint venture between the independent theater chain and the film. We've heard that adult coloring books are becoming a popular thing. We didn't think this was what they meant by "adult coloring books," maybe we should check more of those out.
The book tells you on the cover that it'd not for sale to minors, just in case the hot dog, who apparently wasn't enough of a phallic symbol to begin with, holding a suggestively located crayon, wasn't enough of a hint. Six bucks is probably a solid deal for this book, though you may have to bring your own crayons if you want to work on it before the movie starts. They don't appear to be included.
Like any decent tie-in book, the coloring book includes an introduction from Sausage Party creator Seth Rogen. In an unusual twist, the introduction is by far the most safe-for-work portion of the entire book. He doesn't swear at all and makes only a passive reference to sex. The rest of the book is much worse than this.
The Word Search
On the plus side, if your small child, who hopefully can't read yet, finds this word search, he'll likely have a decent shot at solving it, considering it apparently only has a single word in it, fuck, along with a view of its variations. We think we see the beginning of one of the hidden words in the bottom right corner of this image. We're not sure what's funnier, the single-minded word search, or the fact that the answers are available on page 24 for people who have trouble solving it. Who are these people?
Radish Head
So... yeah. When it comes time to do some coloring, this is one of the images that you'll be, uh, working on. I don't even know where to start here. I think it's the look of utter ecstasy on the face of the radish. It's just not a look you expect to see in your produce. It's...disconcerting. The only thing we can say for sure is that this page is obviously in the middle of a full page, uh, spread. This means that there's even more of the picture on either side of what we see here. We're pretty sure we don't want to know.
The Lap Dance
It's an interesting day you're having when a stick of gum giving a lap dance is not the most offensive thing you've seen this morning. This image is downright family friendly compared to that last one. We'd have to chalk it up the lack sexual characteristics in the gum. The biggest question here is what kind of gum are the dancers? Are they cinnamon, or, like Juicy Fruit? Forget I said that, my mind just went someplace, very, very wrong.
CinemaBlend's resident theme park junkie and amateur Disney historian. Armchair Imagineer. Epcot Stan. Future Club 33 Member.
Your Daily Blend of Entertainment News
Thank you for signing up to CinemaBlend. You will receive a verification email shortly.
There was a problem. Please refresh the page and try again.