Of Course Deadpool's Tax Deductions Include Booze, Weapons And Hello Kitty Merch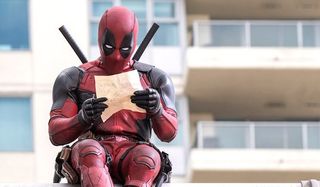 Today is Tax Day in the United States, which means that folks are sending in the necessary documents to the government showing how much they earned over the last year and what deductions were necessary in their line of work. Deadpool is no exception, and to prove it, he's posted a lengthy list of some of his business expenses bought in just one shopping trip.
Being a mercenary isn't a cheap job, which is why Deadpool is making sure that his beloved fans get an idea of how much he spends during his activites. Among the items on the receipt he posted to Instagram are whiskey, a 12-pack of Mike's Hard Lemonade, a Hello Kitty duffel bag, ammunition, two combat knives and a "Daffodil Daydreme" car freshener. All together, the 63 items he purchased added to a total of $2128, with the exact change amount obscured by Deadpool's hand. Okay, so the weapon purchases make sense to deduct as a business expense. You could even make an argument for the thread, as his costume frequently needs to be mended.
That said, it will be interesting to see how Wade Wilson explains how holiday fragrance candles and a My Little Unicorn coloring book helped him with capturing/killing bad guys. That's assuming, of course, that he doesn't just incapacitate the IRS employee who comes snooping around. Frankly, we're surprised that Wade is even bothering at all with taxes. Considering all the chaos and destruction he leaves in his wake, dealing with the government seems like it wouldn't be a priority for him.
Despite Deadpool coming out in theaters two months ago, the Deadpool social media accounts have continued to post fun pictures and videos of the Merc with the Mouth's shenanigans. Blockbuster movies often post something special for the big holidays, like Thanksgiving and Christmas, but Deadpool's promotional material has highlighted some of the more obscure special occasions, from today's Tax Day to Australia Day in January. Maybe they have something planned for Earth Day later this week, or, in a couple weeks, Cinco de Mayo.
Following Deadpool's critical and commercial success, 20th Century Fox has officially green-lit Deadpool 2, which will see Ryan Reynolds, director Tim Miller and writers Rhett Reese and Paul Wernick returning. An official release date hasn't been announced yet, but we hope that the Deadpool social media team continues to post these humorous images and videos in the interim, at least when it comes to these random holidays. As for Wade Wilson's current Tax Day situation, it would be nice of him to let the rest of us know if he ends up being audited.
In case you haven't already experienced Deadpool's glory enough times in the theater, the movie will arrive on home media on May 10.
Connoisseur of Marvel, DC, Star Wars, John Wick, MonsterVerse and Doctor Who lore. He's aware he looks like Harry Potter and Clark Kent.
Your Daily Blend of Entertainment News
Thank you for signing up to CinemaBlend. You will receive a verification email shortly.
There was a problem. Please refresh the page and try again.