Why Did Marvel Reveal Brie Larson As Captain Marvel So Soon? Here Are Our Best Guesses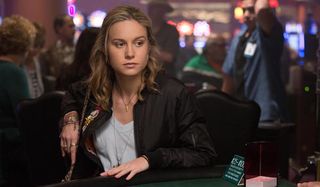 Marvel brought a lot of material to show off to fans last month at San Diego Comic-Con, but one of their most pleasant surprises was announcing that Brie Larson will play Captain Marvel in the MCU. For over a year and a half, there have a lot of actresses named as contenders for the role, ranging from Katheryn Winnick to Emily Blunt. Finally, the months of speculation and rumors came to an end when Larson popped up at the very end of the Marvel Hall H panel to let the public know she will be the first live action Carol Danvers. Larson has starred in a variety of movies and TV shows for nearly two decades, but it was likely her Academy Award-winning performance in Room that led the top Marvel brass to seek her out and offer her the part.
While it's great to finally know who's playing Captain Marvel, one question that's been on our minds in the weeks since is why did the reveal come so soon? Most of Marvel hero castings have been announced approximately 18 months to two years between the movie's release, but Captain Marvel doesn't hit theaters until spring 2019, leaving a nearly three-year gap. One might assume at first it was just to stay ahead of the press, but since reports of Marvel looking at Larson came out several months ago, it's not like her casting was going to be a total shock. It could be argued that the announcement was used to drum up some extra publicity for Marvel's Hall H panel, but since she didn't show up until the end, that seemed like more of an afterthought. So what was the reason for the announcement coming so early? We have a few guesses...
They Need Her For An Earlier Movie
Perhaps the reason Brie Larson was revealed so early is because Captain Marvel isn't the first time Carol Danvers will be seen in the MCU. Given how massive in scope Avengers: Infinity War is set to be, many fans speculated that she would be one of the many heroes who would participate in the battle against Thanos. Since then, rumors aplenty have popped up indicating that will be the case, and directors Joe and Anthony Russo may have even accidentally revealed she'll appear. Since Avengers: Infinity War starts shooting at the end of the year, it stands to reason they'd want Larson's casting to be public before set photos of her leaked out.
Now, keep in mind that just because Carol Danvers might appear in Avengers: Infinity War doesn't mean she'll have powers. In the comics, Carol was introduced as a normal Air Force officer years before she became the first Ms. Marvel. Captain Marvel writer Nicole Perlman also recently said that the movie will make changes to her origin story so that it's not so similar to Green Lantern's. That means we'll see her gain abilities in 2019, and since the MCU, for the most part, has been a chronological journey forward, that means there's a good chance that the Carol will be a normal human when we first meet her, perhaps meeting Earth's Mightiest Heroes on behalf of the military. So it may be a while before Brie Larson pretends to fly and shoot energy blasts, but for the sake of keeping fans satisfied, Marvel decided to announce her casting months before Infinity War's principal photography. That way, they won't spend their time speculating who she's playing when her name shows up on the cast list.
What's our other guess for why Brie Larson's Captain Marvel casting was announced so soon? Head over to the next page to find out!
They Want To Show Faith In The Character/Movie
There's been some concern among some Captain Marvel fans that Marvel Studios isn't taking that movie as seriously as their other projects. Captain Marvel was originally supposed to come out on July 6, 2018, but then it was postponed until November 2, 2018, and then it finally arrived at its current date, March 8, 2019. That by itself isn't enough to panic, as Black Panther also went through delays. However, we also have to remember that Captain Marvel's importance extends beyond just being another MCU entry. The franchise has already introduced female heroes like Black Widow and Scarlet Witch, and on TV, they given ladies the spotlight on Jessica Jones and Agent Carter. Movie-wise, though, Captain Marvel is the first time a super heroine is leading her own adventure in this continuity. It's important that they get the story and presentation of the character right, especially since so many previous super heroine movies have failed to impress audiences. (We'll find out next year how DC does with Wonder Woman in the DC Extended Universe.)
Since there hasn't been much significant official news concerning Captain Marvel recently, Marvel may have decided that this year's Comic-Con was the prime time to finally unveil who will be Carol Danvers. It shows they're taking the movie seriously, not just by keeping fans up to date about how things are progressing, but showing that they've hired someone who's proved her talent in both comedy and drama. It's no secret that the superhero movie genre is mostly populated by dudes, and Captain Marvel is the MCU's opportunity to finally put the spotlight on one of their heroines without them being part of an ensemble or a supporting character in a man's movie. Bringing Brie Larson out for Comic-Con helped restore faith and solidify that Captain Marvel will happen, i.e. not go the way of Inhumans. The next bit of important information we would like to get is who will direct the feature.
Captain Marvel flies into theaters on March 8, 2019. Let us know what you're looking forward to most about Carol Danvers' upcoming adventure in the comments below.
Connoisseur of Marvel, DC, Star Wars, John Wick, MonsterVerse and Doctor Who lore. He's aware he looks like Harry Potter and Clark Kent.
Your Daily Blend of Entertainment News
Thank you for signing up to CinemaBlend. You will receive a verification email shortly.
There was a problem. Please refresh the page and try again.