A Live Action James And The Giant Peach Is Happening, Here's What We Know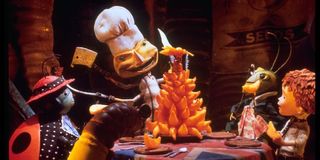 Disney is deep into rummaging through its collection of classic animated movies and remaking them into live action stories for the current generation. This year saw the release of The Jungle Book, and we've also gotten news about more of these adaptations, like Snow White and The Little Mermaid. Just when you thought they'd exhausted this kind of material, they've pulled another one out from their vault of ideas, as it's being reported that a live action adaptation of James and the Giant Peach is in the works.
According to Deadline, Spectre director Sam Mendes is in talks to helm this new version of James and the Giant Peach, with An Education's Nick Hornby writing the script. Just like the 1996 film, it would adapt the 1961 children's novel written by Roald Dahl. What's interesting about making a "live action version" of James and the Giant Peach is that the first movie had live action moments, so this would give it more in common with the Pete's Dragon remake than the upcoming re-tellings of purely animated movies like Beauty and the Beast or Mulan.
James and the Giant Peach follows the eponymous protagonist living in England under the care of his abusive aunts after his parents are killed by an ethereal rhinoceros. One day, the boy receives "crocodile tongues" from a mysterious man, who tells him to keep them safe. However, soon after James drops them, resulting in one of their peaches on a tree next to his house growing enormously. His aunts soon start selling tickets for tourists to see the gigantic fruit, but eventually he crawls within through a hole to the center he accidentally created. That's when the 1996 movie became stop-motion animated, as within, James discovered a group of human-sized, anthropomorphic bugs living within, including a spider he saved before getting the crocodile tongues. Wishing to help James escape his relatives, the bugs cut the giant peach loose from the tree, roll it to the ocean and set forth to New York City, the metropolis he's dreamed of visiting.
Since this new James and the Giant Peach movie will be a live action take on the story, we can likely expect whoever plays James to look normal the whole time rather than become animated once inside the peach. The bugs, on the other hand, will be CGI creations, as movie technology has advanced a lot since the first movie came out. Beyond that, there's no information yet about how this remake will differ from its predecessor, but it's safe to assume it will retain the primary classic features of Roald Dahl's original tale, though I wouldn't be surprised if the time period was changed from the 1930s to somewhere more contemporary.
It may be a while until this new James and the Giant Peach enters production, but we'll keep you updated on its progress as more information comes in.
Your Daily Blend of Entertainment News
Connoisseur of Marvel, DC, Star Wars, John Wick, MonsterVerse and Doctor Who lore. He's aware he looks like Harry Potter and Clark Kent.