Science Explains Why Superman's Glasses Actually Work As A Disguise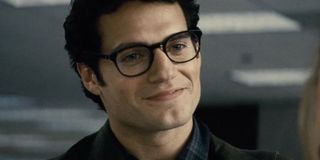 People have found many ways to make fun of Superman over the years, but certainly one of the questions raised most often about the character is the way in which he protects his secret identity. Unlike many superheroes who wear masks, the Man of Steel does nothing to cover his face when fighting crime, but hides under a simple pair of glasses as reporter Clark Kent. Readers have spent decades laughing about how impossible this seems, but it may surprise you to learn that a pair of spectacles actually do a rather good job of masking a person's looks.
Researchers at the University of York recently conducted a study about the effect that glasses have when it comes to facial recognition, and while the thinking behind the experiment was driven by important world matters like border control security, they seemingly inadvertently showed that Clark Kent's disguise is somewhat plausible. According to CNN, 59 participants in the research were shown side-by-side photographs in three different categories: images of people wearing glasses, images of people not wearing glasses, and images where one individual is wearing glasses and the other isn't. In the first two categories, the participants were correct 80 percent of the time - but that success rate dropped to 74 percent when it came to the third category.
Kay Ritchie, a co-author of the study, explained why this seemingly insignificant change is actually pretty important:
Admittedly these numbers are 100% in support of Superman's disguise of choice, as it still suggests that about three out of every four people would recognize Clark Kent as the flying alien from Krypton, but think of it this way: this study is only about side-by-side comparisons. Without directly looking at both Clark Kent and Superman at the same time, the odds surely swing in the superhero's favor, adding just a bit more credence to his "all I need is a pair of glasses" philosophy.
Does this study in any way affect the way you think about the plausibility of Superman's disguise of choice? Are you perhaps just a little bit less skeptical about his secret life as Clark Kent now? Tell us what you think in the comments section below, and if you're feeling game, feel free to toss out your own theory as to why nobody recognizes that the journalist from Smallville is the Man of Tomorrow!
The best part is, Henry Cavill put this theory to the test once. He appeared in one of the most crowded spots on our planet, wearing a SUPERMAN shirt, and NO ONE RECOGNIZED HIM!! Don't believe us? We have a picture to prove it. Read on!
In the decades since Superman and Clark Kent have co-existed in the world of DC Comics, one question has always perplexed fans and critics alike: is Clark Kent's "disguise" really that good? Well, Henry Cavill conducted an experiment in New York City, while promoting Batman v. Superman: Dawn of Justice, and the results might surprise you.
Through his personal Instagram account, Henry Cavill took to the streets of New York without the iconic pair of glasses that separate mild mannered Clark Kent from his Kryptonian persona. To up the stakes a little, Cavill also wore a t-shirt with the new Superman logo on it, and made sure to hit up the area of Times Square where Batman v. Superman: Dawn of Justice billboards are plastered high and plenty. And sure enough, despite his best efforts, it looks like Cavill was able to avoid detection. How?
Your Daily Blend of Entertainment News
Assistant Managing Editor
NJ native who calls LA home and lives in a Dreamatorium. A decade-plus CinemaBlend veteran who is endlessly enthusiastic about the career he's dreamt of since seventh grade.
Your Daily Blend of Entertainment News
Thank you for signing up to CinemaBlend. You will receive a verification email shortly.
There was a problem. Please refresh the page and try again.