A Deadpool Deleted Scene Shows A Possible Connection To The Marvel Cinematic Universe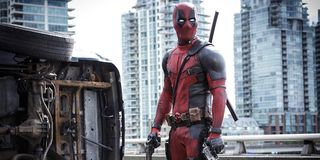 Like other 20th Century Fox Marvel properties, Deadpool wasn't connected to the Marvel Cinematic Universe. While that was definitely for the best in terms of allowing the Merc with the Mouth that extended, R-rated, creative freedom, it does close off any possibility of connecting to the wide universe that the House of Ideas has built on its own. However, months after Deadpool arrived on home media, it's been discovered that there was a subtle MCU connection thrown into a deleted scene through the prison facility known as The Raft.
Recently spotted by ComicBookMovie.com, one of the deleted scenes shows Francis, a.k.a. Ajax, being escorted by boat to the entrance of a prison, with a sign clearly labeling it as "The Raft Prison." Once on land, one of the officers uncuffs Francis and says he's someone else's problem now, implying that Deadpool's main antagonist was behind bars before the story kicked off. In the comics, The Raft was built shortly before the Civil War event, and it holds the worst super villains out there. Due to the X-Men world and MCU being separate, even if that scene is still considered "canon," the most we can use The Raft is as a fun nod rather than a true connective thread, but we'll take it.
Fortunately, despite Deadpool cutting Ajax's release from prison from the final cut, The Raft only had to wait a couple more months to be seen on the big screen, as it was introduced in Captain America: Civil War. It was the prison Tony Stark and the U.S. government built to hold the enhanced individuals who wouldn't cooperate with the Sokovia Accords. Eventually Falcon, Scarlet Witch, Hawkeye and Ant-Man were trapped within its walls, but Steve Rogers freed them at the end of the movie. While Deadpool's Raft simply looked like another Alcatraz, the MCU's Raft was a giant facility in the middle of the Atlantic Ocean that could submerge underwater.
This isn't the first time that Deadpool and the MCU have shared a possible (indirect) connection with one another. Shortly after the movie hit theaters, a concept artist revealed that they had drawn the giant craft in the shipyard where Deadpool has his climactic fight with Ajax to look like a S.H.I.E.L.D. Helicarrier. Director Tim Miller later debunked that the ship in Deadpool was a Helicarrier, as various legal obstacles prevented that, but it's still fun to pretend one of Nick Fury's flying machines ended up broken and resting in Wade Wilson's territory. Still, until Marvel and Fox work out some kind of arrangement, we'll never see any true connectivity between those universes beyond these in-jokes.
Wade Wilson's adventures will continue when Deadpool 2 hits theaters sometime in the near future. Stay tuned to Cinema Blend for all the relevant updates concerning it.
Connoisseur of Marvel, DC, Star Wars, John Wick, MonsterVerse and Doctor Who lore. He's aware he looks like Harry Potter and Clark Kent.
Your Daily Blend of Entertainment News
Thank you for signing up to CinemaBlend. You will receive a verification email shortly.
There was a problem. Please refresh the page and try again.