The 10 Most Incredible Moments From The Captain America: Civil War Trailer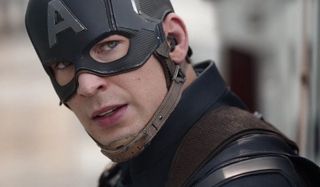 To get fans and regular moviegoers even more jazzed for Captain America: Civil War's May release, Marvel released a new trailer with a lot of cool moments. While there was a sprinkling of scenes featured in the teaser trailer and Super Bowl TV spot, there was also a ton of new footage that teased what coming in the third Captain America film, from fights between former allies to appearances from new heroes. As the first movie in Phase Three, this new era of the Marvel Cinematic Universe is kicking off with a bang.
With so much to take in over two-minutes-and-twenty-four seconds, we've rounded up our top 10 moments from the newest Captain America: Civil War trailer. Enjoy!
The Raft
Those who don't register with the government are going to suffer the consequences, whether they're members of Team Captain America or just another random superhuman. For most of the lawbreakers, that means being imprisoned in The Raft, that gigantic facility seen emerging from the water, its cells ready to be filled. The Raft was introduced by Brian Michael Bendis in 2005 as a prison for supervillains. The original Civil War storyline had the anti-registration folks imprisoned in a facility built inside the Negative Zone by Reed Richards, dubbed "Project 42." However, since the Fantastic Four and Negative Zone are in 20th Century Fox's hands, The Raft is a fitting substitute.
Black Panther Vs. Winter Soldier
While he's in the U.S. trying to get the Civil War under control, one of Black Panther's missions will be to capture Bucky Barnes, a.k.a. the Winter Soldier. We saw T'Challa chasing Bucky in the teaser trailer, but in this latest preview, he manages to leap onto to Bucky's morocycle and knock it off course. It just goes to show how formidable Black Panther is after all that training in Wakanda. We later see them duking it out on a rooftop, but the fight is cut short when a nearby helicopter starts spraying gunfire. Man, some people are just so rude.
War Machine Getting Shot Down
We already knew that James Rhodes will be badly injured in Captain America: Civil War, but we just found out what takes him out of the game: a missile hitting him while he's flying. The missile appears to be shot by Bucky, though this could just be the way the trailer is edited. Whoever shoots it, it sends War Machine plummeting to the ground, and he's eventually discovered by Tony Stark, who's extremely pissed that his best friend is hurt. It's still unclear if Rhodey will die in the movie, but right now his future isn't looking all that sound and secure.
Iron Man Vs. Captain America
We've seen Captain America and Iron Man facing each other down and fighting in the other previews, but this time it felt more personal. Their ideological differences are cemented further, but when Tony states, "I was wrong about you. The whole world was wrong about you," after finding an injured Rhodey, it cut almost as deep as that, "So was I" line from the earlier teaser trailer. Soon after, we see Tony sock Steve in the face after the latter tries to reduce the tension, and Tony exclaims, "You just started a war!" Near the end of the trailer, we revisit them fighting in that weird building seen at the end of the teaser, and Bucky's nowhere to be seen. However this movie ends, it's clear that Steve and Tony won't part on good terms.
Scarlet Witch Controlling Vision
With the power of the Mind Stone and a top-of-the-line artificial body, The Vision is one of the most powerful beings on Earth, but he's not invincible. Although he and Scarlet Witch became allies during Avengers: Age of Ultron, they'll find themselves on opposite sides during Captain America: Civil War. During the trailer, Wanda Maximoff gets the upper hand over the android when she uses her telekinetic abilities to force him to the ground, and he seems powerless to stop her. Hopefully this battle doesn't hurt the possibility of them getting together romantically in the future, just like in the comics.
Ant-Man Riding Hawkeye's Arrow
If you were to think of a popular Marvel combo move from the comics, the first one that would come to mind is likely the Fastball Special, where Colossus tosses Wolverine with his claws unsheathed at an adversary. However, the Avengers have their own special partnership: Hawkeye shooting an arrow with Ant-Man on it. Concept art leaked in January hinted this could be seen in Captain America: Civil War, and today's trailer showed that we will see Ant-Man ride on one of Hawkeye's arrows, specifically so he can get on Iron Man and screw around with his armor. Now that's teamwork.
Crossbones Vs. Captain America
Brock Rumlow is back for Captain America: Civil War, and this time he'll be causing trouble as Crossbones. Despite being one of the movie's only outright villains, details are light about what he's specifically up to. All we know is that Captain America and a few other Avengers will deal with him near the beginning of the movie, and it's heavily hinted that he's responsible for the incident that finally leads to the legislation being drafted against the superheroes. Crossbones lands a solid punch in Cap's face during the trailer, so expect the fight between these two will be brutal and no-holds-barred.
The Captain America: The First Avenger Callback
Not every shot in this trailer was action-packed or visually stunning. Some of them just tugged at our emotions and our heart string. In this case, it was that moment when a bloodied Captain America put up his fists and told Iron Man, "I can do this all day." MCU fans will recognize this as a callback to 2011's Captain America: The First Avenger, when Steve Rogers, before his remarkable transformation, said those same words to a bully who was beating him up in 1940s New York City. Now Tony is the bully in Steve's eyes.
Both Sides Charging
Captain America: Civil War doesn't just deliver an ideological battle. Eventually both sides will physically clash over their differences. We've seen the two teams gearing up for action in the other previews, and there was a shot of Captain America and his crew running in the teaser. This trailer, however, gave us a wide shot of both sides about to crash into each other. This sequence, which will reportedly clock at 15-minutes, was shot in IMAX, and is described as the movie's "splash panel." So regardless of which side you're rooting for, you're guaranteed to get a battle that's not only intense, but fantastic looking.
Spider-Man
We've already talked about Spider-Man showing up in the final seconds of the trailer, but still, how amazing was it to see him snatch Captain America's shield with his webbing and drop a causal, "Hey, everyone," to both the combatants and fans? Although it was announced last year that Spider-Man would make his MCU debut in Captain America: Civil War, Marvel kept the exact nature of his involvement a secret. Now we know that Spidey will be fighting on Iron Man's pro-registration team, but it remains to be seen how he specifically gets drawn into the conflict. Well, at least we know now that Tony Stark won't be a man short when the main battle begins.
Your Daily Blend of Entertainment News
Connoisseur of Marvel, DC, Star Wars, John Wick, MonsterVerse and Doctor Who lore. He's aware he looks like Harry Potter and Clark Kent.