Avengers: Infinity War May Include A Key Marvel Entity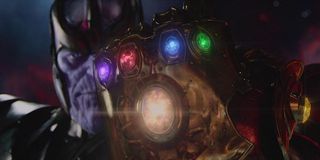 Although Thanos was set up as the Marvel Cinematic Universe's overarching bad guy in 2012, he has yet to show just how formidable he is beyond delivering a few lines of threatening dialogue. Thankfully, the Mad Titan finally got off his butt at the end of Avengers: Age of Ultron to look for the Infinity Stones on his own. We're still a couple years from when he wreaks havoc on Earth in Avengers: Infinity War, but just like his comic book counterpart, Josh Brolin's Thanos may not just seek ultimate power. It's now rumored he'll also be trying to woo his one and only love, Mistress Death.
Latino-Review is reporting that despite being named Infinity War, the third Avengers movie will be primarily based off the 1991 miniseries The Infinity Gauntlet. Going off what little we've learned about Avengers: Infinity War, that makes since, as Infinity Gauntlet saw the Marvel heroes (and a few villains) banding together to battle Thanos once he collected the Infinity Gems, while the comic book Infinity War story was about Adam Warlock battling his evil half, the Magus, after getting the Gauntlet. Anyway, like in the Infinity Gauntlet comic book, Avengers: Infinity War will have Thanos trying to impress the entity Death, who is personified as a woman. However, it's worth noting that Thor: Ragnarok is introducing Hela (played by Cate Blanchett), the Asgardian goddess of death, and some fans have been speculating that the MCU will be Lady Death's substitute. Unfortunately, Latino-Review didn't learn anything that proves or debunks this theory.
In the comics, Thanos grew up obsessing over death, to the point that he fell in love with its physical embodiment, Mistress Death (seen above in one of her less attractive forms). By adulthood, he was determined to wipe out all life in the universe to prove his affection for her, a goal he nearly accomplished in The Infinity Gauntlet. Thanos will supposedly have the same objective in the MCU, as he's looking to kill every living being in existence so he can gather enough souls for her. Whether the movie decides to bring back Cate Blanchett's Hela or use a new individual as Death, the comics have shown that Thanos' actions will probably not impress her the way he liked. One wonders if she might also pave the way for more abstract entities being brought into the MCU.
The Avengers: Infinity War creative minds are being cagey about what to expect from the gigantic blockbusters, but fans can at minimum look forward to the Avengers and reportedly the Guardians of the Galaxy teaming up to stop Thanos and his mission of mass destruction. The Latino-Review article also noted that Nick Fury will finally return to the MCU in this movie, and previous reports have indicated a few new characters will be thrown into the mix, including perhaps Carol Danvers, a.k.a. Captain Marvel.
Avengers: Infinity War hits theaters on May 4, 2018.
Your Daily Blend of Entertainment News
Connoisseur of Marvel, DC, Star Wars, John Wick, MonsterVerse and Doctor Who lore. He's aware he looks like Harry Potter and Clark Kent.
Your Daily Blend of Entertainment News
Thank you for signing up to CinemaBlend. You will receive a verification email shortly.
There was a problem. Please refresh the page and try again.