Will Fantastic Beasts Reveal Fawkes' Origin Story?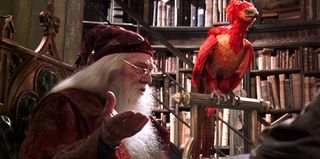 Harry Potter fans are eagerly awaiting the arrival of Fantastic Beasts and Where To Find Them this November. Though the story is set decades before the Harry Potter books and films, we're expecting some tie-ins to the original series. One theory that's making the rounds right now is the possibility that Dumbledore's faithful phoenix, Fawkes, might be making a pretty notable appearance in this film. Or his egg might be, at the very least.
Inverse put together this theory, fittingly on the same week that Harry Potter and the Chamber of Secret's illustrated edition hit shelves. They think there's a chance that the egg we see Jacob holding in the most recent trailer might be a phoenix egg. To take that a step further, they theorize that the egg is Fawkes'. We know that Newt Scamander knew Dumbledore, and we know Dumbledore eventually comes into possession of a phoenix, which he is believed to have obtained at some point before 1938. We don't know much more than that in terms of where Fawkes came from. Is it possible that Fantastic Beasts and Where To Find Them is going to reveal Fawkes' origin story? That remains to be seen, but some signs point to the possibility.
Among Jim Kay's incredible illustrations in the newly published Chamber of Secrets illustrated edition is a two-page spread focused on phoenixes. It includes a picture of what a phoenix egg might look like. Here's a glimpse of it from Bloomsbury's trailer for the book:
For those who want a better look, turn to page 247 of the Illustrated Edition of Harry Potter and the Chamber of Secrets. But the egg in the illustration is bluish, with brown freckly looking spots.
Along with the illustration is a note that points out that phoenix eggs are typically green or blue, and glossy. They also apparently don't require much incubation in order to hatch. Why might that be relevant? Because in the most recent trailer for Fantastic Beasts, Dan Fogler's character Jacob is seen holding an egg, which he announces is hatching. He presents it to Newt (Eddie Redmayne), who promptly accios it in his own direction, taking Jacob with it.
Now, here's the thing, as Inverse points out, that egg looked different in a previous trailer. If you watch the Comic-Con trailer, you'll see that it was once brassy looking...
It appears the movie changed the appearance of the egg, from the SDCC trailer, to the new one. And it's possible that the reason the egg needed to be changed was to make it match the now-documented appearance of a typical phoenix egg.
Given that we know that Newt knew Dumbledore, it's exciting to consider that we might get to meet Fawkes at the start of his first life, and possibly even learn how he would end up in Dumbledore's possession. But this is just a bit of speculation right now. (Also a reminder that we're going back to the Harry Potter world on the big screen very soon!)
Of course, there are arguments to be made against the theory. First, it's not entirely clear that there's much (if any) color to the egg Jacob is holding. It looks kind of gray. Maybe a bit blue? Maybe if it hits the right lighting it'll show some color? Either way, I'm not sure I'm convinced I see blue or green there.
Also, the change from the brassy-gold looking egg to the more traditional looking egg could've been made for any number of reasons, including the intention to make it hatch at some point. So there's that.
But it's true that don't know a lot about Fawkes' beginnings, so it's entirely possible that Fantastic Beasts will find an opportunity to re-introduce him to us. The Chamber of Secrets illustration also notes that phoenix eggs can take several years to hatch. We also know that Newt Scamander is facing a fair amount of chaos in Fantastic Beasts. Wouldn't it be just like Fawkes to make his grand appearance right around the time that he might be needed?
We'll have to wait and see.
Fantastic Beasts and Where To Find Them arrives in theaters November 18.
Your Daily Blend of Entertainment News
Assistant Managing Editor
Kelly joined CinemaBlend as a freelance TV news writer in 2006 and went on to serve as the site's TV Editor before moving over to other roles on the site. At present, she's an Assistant Managing Editor who spends much of her time brainstorming and editing feature content on the site.