World War Z 2: What We Know So Far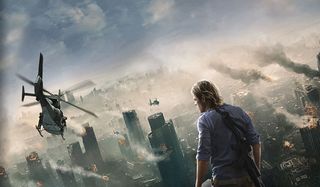 Update: As of early February 2019, the tentative plans for World War Z 2 have been cancelled. But, this is Hollywood, so if things do get moving again, we'll know about it and be sure to let you know via this guide!
They said it couldn't be done. Folks thought that World War Z could never be adapted into a Hollywood motion picture that captured the thrills and scares of Max Brooks' best selling novel of post-apocalyptic remembrance. Depending on who you are, that claim could be debated; however what can't be debated is the fact that the 2013 film was an absolute hit! So, naturally, a sequel was put into development, and World War Z 2 went from pipe dream to ongoing concern in that moment.
With a release date that hasn't quite been tied down yet (we'll get into that in a bit), it seems like a good time to sift through the facts that we know, as well as speculate on the facts we don't have just yet. Throughout the next couple of pages, we'll take a look at everything on the table, and piece together what we feel to be the future of World War Z 2. Keep in mind, this feature is based off of the knowledge we have at the current moment, and will be refreshed as major developments occur. So bookmark this page for future reference, as this is our guide to What We Know So Far about World War Z 2.
What Is The World War Z 2 Rating?
More than likely, Paramount is going to want to keep the rating to World War Z 2 in the same ballpark as World War Z. This means we're expecting a solid PG-13 rating to be bestowed upon this second round of zombie carnage, with the possibility for an "unrated cut" heading to Blu-ray after the film hits home video. With the previous film grossing $590 million worldwide, during the summer of 2013, the PG-13 rating didn't hurt the film's chances at the box office, despite the controversy among horror fans. However, considering the controversy that the previous PG-13 outing had raised with fans of the source material, as well as fans of zombie flicks altogether, Paramount could revise their plans and bump the film up to an R rating.
What Is The World War Z 2 Release Date?
Hang on, folks, because development on this movie got real tricky, real fast. For a while, World War Z 2 was penciled in for a June 9, 2017 release date. But, after original director J.A. Bayona left the film, along with other behind the scenes shuffles, it was taken off the schedule mere months before that date hit. Naturally, we weren't surprised that the release date was bumped up to a 2018 - 2019 release date, particularly with reports that Paramount was reluctant to give the film a full greenlight. In the summer of 2017, David Fincher finally committed to directing the project in full, along with Brad Pitt agreeing to reprise his leading role. But, just a few months later, in November, Fincher admitted that while a script had been written, the story was still being worked on. That delay allowed Pitt, in early 2018, to begin filming his latest collaboration with Quentin Tarantino, stopping the film from getting underway sooner. Then, with Pitt off filming with Tarantino, Fincher's commitment to the second season of his Netflix show Mindhunter got in the way, meaning that instead of beginning to work on WWZ2 at the end of 2018, the director would be heading up his series, instead. In other words, we probably won't see filming begin on this movie until early 2019, so a release before 2020 is highly unlikely.
The Director
With World War Z director Marc Forster deciding not to direct the sequel to his summer hit, the search was on for a directing candidate who could step in. The first, and up until recently, only, candidate was The Orphanage director J.A. Bayona, who entered the ring a couple of years ago. Unfortunately, after around 2 years or so of development, Bayona dropped out of the project, as not only did his duties on A Monster Calls demand his attention, but he also picked up another gig in the meantime. Then again, if we were given the opportunity to direct Jurassic World: Fallen Kingdom, we'd have to jump at that chance as well.
While 2017 brought word that the possible replacement for J.A. Bayona's vacant director's chair was David Fincher, who was labeled as "very creatively interested in directing the movie," it's clear that for WWZ2 to really get underway it's going to take quite a bit of maneuvering from all involved parties. For a while, the studio was making a big deal about delaying a greenlight under former Paramount chairman Brad Grey, but his successor, Jim Gianopulos wasn't as shy about making a deal. With a proper director and the star of the original looking to make it happen, let's hope that World War Z 2 comes together within the next couple of years.
The Writer
In the early days of World War Z 2's formation, writer Steven Knight, a talent known for his work on films such as Dirty Pretty Things, Locke, and Pawn Sacrifice, as well as the TV show Peaky Blinders, was working on the film. A fan of the first film's breakneck pace, Knight has brought some big ideas to the table with his approach to the World War Z 2 script, which may or may not follow directly after the events of World War Z. Of course, Steven Knight's work was only the first pass at the film's story, as a new writer was brought into the fold: Dennis Kelly. Kelly, best known as the writer on the mind-bending conspiracy thriller series Utopia, was brought onto the project in October 2015. While that produced a script everyone was incredibly happy with, as noted above, it's being looked over again to make sure they have the correct take on the story.
Brad Pitt
As U.N. investigator Gerry Lane, Brad Pitt was the heart, soul, and face of World War Z. Loosely based off of the unnamed narrator in Max Brooks' original film, Gerry was the center of the globe-trotting film, as his "man on a mission" attitude powered him through visits to several countries, countless zombies, and even a close encounter with the undead - thanks to his strategy of playing ill to fake out the zombie hordes. Without Brad Pitt, this character wouldn't have been as effective as he was, and as such it's a good thing that Pitt is on record as returning for World War Z 2, at least for the time being.
While Pitt is a producer on the project, and David Fincher is circling the directing post for World War Z 2, the delay in production for the sequel could play havoc on Brad Pitt's availability for the project. Though Pitt has certainly kept himself busy in the meantime, as he was featured in last year's Allied, this year's Netflix original War Machine, and is currently attached to the sci-fi mindbender Ad Astra. Though a lack of an official production date could put that film on the backburner, should David Fincher officially be announced as the official helmer in the near future.
Where The Last Movie Left Off
Originally, World War Z was supposed to end with a massive showdown in Russia, which had Gerry fighting to rescue the Israeli soldier traveling with him, and ultimately saw his wife ending up with Matthew Fox's randomly appearing soldier from the beginning of the film. After a massive re-write by Damon Lindelof and Drew Goddard, World War Z saw Gerry Lane visiting the World Health Organization and confirming the discovery that if the zombies thought you were already sick and/or dying, they avoid you altogether.
This lead to a "vaccine" being developed, which allowed people to camouflage themselves as ill, thus allowing them to maneuver through the zombies without a hitch. As the film ended, we saw Gerry reunite with his family in Nova Scotia, as his voice-over narration warned humanity to fight and be prepared for anything, after showcasing a montage of victorious looking footage. Strangely enough, part of the footage that's used in this victory montage looks to be from the original ending, repackaged as the "Battle of Russia."
Where The Sequel May Go
While World War Z had set itself up pretty effectively for a sequel, it didn't lay out a clear through-line that was considered vital to the building blocks of a new installment. Even reports from one of the writers who'd worked on the project, Steven Knight, stated that the crew behind World War Z 2 wasn't completely beholden to picking up directly after the events of the first film. Now this could mean one of two possible scenarios could take place, especially if Brad PItt's schedule doesn't accommodate whatever other pitfalls World War Z 2 may suffer: either Gerry Lane could be brought in as a role of limited scope, connecting the sequel to the first film, or Gerry could be written out all together.
Choosing to keep Brad Pitt in the sequel would undoubtedly help keep the blockbuster franchise World War Z wants to think it is on track, however there is one big positive factor, should Pitt decide not to be interested anymore. If Gerry Lane isn't our main character, then World War Z 2 could help kick off the brand as an anthology series of films that utilized different stories from the Max Brooks text to tell the various stories that World War Z's print incarnation is famous for.
What Material Could Be Used From The Original Book
If there was a complaint greater than the fact that World War Z was a PG-13 rated blockbuster, it's that the film was pretty much an adaptation in name only. While some of the stories in the book (opens in new tab) were referred to, with characters from those stories being included in Marc Forster's film, the actual meat and potatoes of the stories in the book were left untouched. While this was a disadvantage for the first film, this could be used as a clear advantage for World War Z 2, as Gerry Lane could easily find himself dropped into any of the scenarios the book cooked up.
If we were to pick one story that needed to be adapted to the big screen for World War Z 2, it'd have to be "The Battle Of Yonkers" section of the book. With its massive action set-piece friendly setting, as well as its eventual downer ending, the story of Todd Waino and the protracted siege on the Saw Mill River Parkway could serve as a great centerpiece for World War Z 2's grand finale, or even the film's hypothetical second act. Though a case could also be made for almost an entire film being dedicated to this battle, with Todd's story taking center stage and Gerry Lane either serving a supporting role as the person recording the story, or as a first-hand observer who's once again in the wrong place at the wrong time.
But if "The Battle Of Yonkers" isn't the direction the filmmakers of World War Z 2 want to go, then there's another option that's already been partially explored. As previously mentioned, the original ending of World War Z had Gerry Lane going to Russia, where he made the big discovery that the old and already sick were not attractive to the zombie menace. As it happens, World War Z the book has a section that also takes place in Russia... although a much different story comes to light: that of military upheaval and a Russian revolution that turns the country into a religious monarchy.
While the country has its Cold War stockpiles of weapons, Russia has two fronts of zombies to deal with. With the woes of the zombie war piling up on top of good old fashioned human insecurity, some wild times are to be had in the Russian army, which ultimately leads to a policy where if you're infected, you have to kill yourself. This leads a priest, Father Sergei Ryzhkov, to help out those who do not want to commit suicide, but are going to die anyway. Since suicide is a sin, he offers the service of delivering a bullet to the brainpan of any infected soldiers - all in the name of the almighty. His bravery is commended, and eventually the Holy Russian Empire rises. If the folks writing World War Z 2 wanted to get creative, they could land Gerry Lane in the middle of Russia to see this revolution taking place, and they might even be able to work in some of the previously shot footage of the original third act!
There's a lot we don't know about World War Z 2 at the moment, but judging by the information we do have at hand, this project could be one of those rare sequels that outpaces the original. We'll see how much this sentiment holds up as time and further information change the structure of what World War Z 2 has in store for us. In the meantime, if you'd like to experience World War Z all over again, you can do so thanks to Amazon's (opens in new tab) streaming and purchasing services.
Your Daily Blend of Entertainment News
Senior Movies Contributor
CinemaBlend's James Bond (expert). Also versed in Large Scale Aggressors, time travel, and Guillermo del Toro. He fights for The User.
Your Daily Blend of Entertainment News
Thank you for signing up to CinemaBlend. You will receive a verification email shortly.
There was a problem. Please refresh the page and try again.