Watch X-Men: Apocalypse Get Ripped To Shreds In New Honest Trailer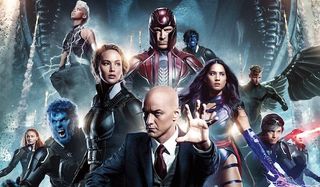 The X-Men movie franchise hit a rough patch in the late 2000s, but thanks to 2011's X-Men: First Class and 2014's X-Men: Days of Future Past, it looked like the franchise was back on track. Then came 2016, which provided both Deadpool and X-Men: Apocalypse to the masses. While the former was a critical and commercial powerhouse, the latter earned mixed reviews, with some seeing it as a misstep by being too formulaic. That's why the Honest Trailers folks have chosen X-Men: Apocalypse as its latest victim.
Right out the gate, the X-Men: Apocalypse Honest Trailer throws a jab at the latest mutant feature for making the X-Men series "suck again." From there, the video from Screen Junkies rains insults on numerous aspects of the latest X-Men entry, whether it's how these characters don't age despite a decade passing between each "First Class" movie or how Wolverine was thrown in just for the hell of it. In the latter half, they also take some time to point out how many plot points X-Men: Apocalypse retread, like reintroducing the Phoenix and more of that classic Professor X and Magneto friendly/adversarial relationship (they're referred to as Ross and Rachel). The "trailer" caps off with noting how Jean Grey's comment about the third movies always being the worst ended up being indicative of this installment. It's ironic that such a self-referential joke (poking fun at X-Men: The Last Stand) came at its own expense.
Taking place in 1983, X-Men: Apocalypse saw the main characters fighting to stop the eponymous antagonist and his Four Horsemen from wiping out the weak. It acted as the conclusion to the "First Class" trilogy, yet the ending clearly set up a new path for the franchise to go down should 20th Century Fox decide to make for main X-Men movies. As it stands now, the only X-Men-related movies that slated in the near future are the spinoffs Logan, Deadpool 2 and New Mutants. There's also Gambit, but considering how many creative upheavals that project has gone through behind the scenes, who knows if it will ever actually be made?
It's worth noting that X-Men: Apocalypse wasn't the worst reviewed superhero movie of 2016, but many believe it just didn't bring anything particularly unique to the table. Fortunately, it did okay for itself financially, taking in nearly $544 million worldwide. It won't go down as the most beloved X-Men movie ever, but it's far from the worst entry, either. One wonders how X-Men: Apocalypse might have been received if it came out last decade a time where the superhero movie genre was popular, but there wasn't nearly as much of an abundance of these stories. Maybe then it would have been better appreciated.
X-Men: Apocalypse is now available for purchase on Blu-ray, DVD and Digital HD.
Your Daily Blend of Entertainment News
Connoisseur of Marvel, DC, Star Wars, John Wick, MonsterVerse and Doctor Who lore. He's aware he looks like Harry Potter and Clark Kent.