Benedict Cumberbatch Dressed Up As Doctor Strange In Public To See What Would Happen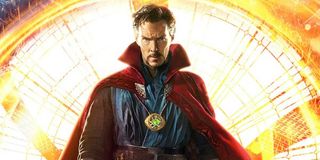 These days there is no bigger deal in Hollywood than being cast as a comic book superhero. So what's a famous actor to do when they're decked to the nines in an awesome costume? Have lunch of course. That's exactly when Benedict Cumberbatch did while filming scenes from Doctor Strange in New York City. While one might think this was met with either adoring fans or at least a bunch of weird looks, this is New York, and nothing shocks them for too long. Cumberbatch even busted out a movie reference to help visualize the scene.
You can really see that happening in your mind can't you? The entire cafe stops what it's doing when the guy with the flowing red cape comes into the place. Maybe some of them recognized Benedict Cumberbatch, maybe not. Either way, even in New York, the cape would be an unusual thing to see. However, once they've taken it in, everybody has much more important things to worry about then why this guy is wearing a cape and they all go about their business. Based on his comments to Entertainment Weekly, it would see the actor had a nice lunch. Of course, if Benedict Cumberbatch was being mauled by a demon dog, it would seem the reaction would have been about the same.
As popular as the Marvel Cinematic Universe has become, Doctor Strange is not one of the instantly recognizable characters from the canon. If Captain America had walked into the cafe, even before the first film came out, most people would probably know who the guy was. It's entirely possible that here, especially in a cafe where not everybody is necessarily a fan, that nobody really knew wheat they were looking at, which actually makes the whole thing even funnier.
Based on the fact that Benedict Cumberbatch doesn't mention being mobbed for autographs we're going to assume that all the patrons just thought the actor was a guy who liked to wear capes.
CinemaBlend's resident theme park junkie and amateur Disney historian. Armchair Imagineer. Epcot Stan. Future Club 33 Member.
Your Daily Blend of Entertainment News
Thank you for signing up to CinemaBlend. You will receive a verification email shortly.
There was a problem. Please refresh the page and try again.