Logan May Feature A Classic X-Men Character, See His Picture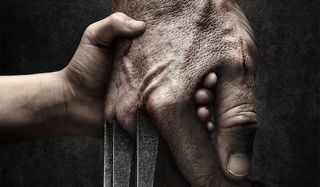 As the third Wolverine spinoff, Logan, looms closer, we're starting to learn more about who the movie's principal players are. One of those folks will be played comedian Stephen Merchant, but when his casting was announced six months ago, no character details were revealed. However, a more recent report said Merchant will play Caliban, and thanks to a new photo, it looks like the claim may be true.
Director James Mangold posted this look at Stephen Merchant's character on Twitter earlier today, and judging by his baldness and Albino visage, it looks like he will indeed be portraying Caliban in Logan. According to the previously-mentioned report, Caliban will help Wolverine take care of Professor Charles Xavier in 2024, who has become unstable as he approaches being nearly 100 years old. Beyond that, it's unclear how he might factor into the plot.
In case you need more proof that Stephen Merchant is playing Caliban in Logan, the actor posted a different photo on his Instagram page, which has him wearing a get-up similar to what Caliban wore in his earliest comic book appearances.
Introduced in 1981, Caliban is a member of the Morlocks, mutants who live underground because humanity has shunned them, whether it's because of their physical appearance of some other reason. His main mutant ability is being able to sense other mutants and what their powers are as far as 25 miles away. He's been a flip-flopper when it comes to his relationship to the X-Men. At times he's helped the mutant superheroes, while in other instances, he's been manipulated into fighting them. In one of the latter cases, he was transformed by Apocalypse into Death, one of the Four Horsemen. When that happened, Caliban not only grew into a massive brute, but also gained additional abilities, like enhanced strength, boosted senses and being able to absorb "fear-generated psionic energy" from others and redirect it back at them.
Caliban most recently appeared in X-Men: Apocalypse (played by Tómas Lemarquis) as an underground broker who located other mutants with his ability for a price. Psylocke was his bodyguard until Apocalypse recruited her as one of his Four Horsemen. The X-Men movie series has a history of occasionally featuring different versions of the same character (like how Jubilee cameoed in 2000's X-Men before X-Men: Apocalypse, which takes 17 years prior), but for now, we're assuming that both these versions of Caliban are one and the same, which means he's aged well over the last 40 years.
Logan hits theaters on March 3, 2017.
Your Daily Blend of Entertainment News
Connoisseur of Marvel, DC, Star Wars, John Wick, MonsterVerse and Doctor Who lore. He's aware he looks like Harry Potter and Clark Kent.