Logan Just Confirmed More Villains for Wolverine With A Lethal New Picture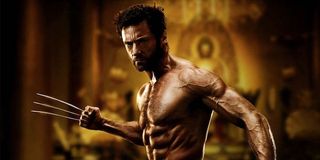 Even though Wolverine will be worse for wear in Logan next year, that won't mean he gets to take it easy. New villains are afoot, and they have sinister machinations planned. Over the last several weeks, we've read reports about who some of the main antagonists in Logan will be, but now it's been confirmed that the spinoff's "muscle" will indeed be The Reavers, assassins that Wolverine and the X-Men dealt with several times in the Marvel Comics universe.
The official Logan Instagram account posted this image earlier today of an operative peering through the scope of his rifle and donned in some kind of armor. The caption simply states "Reaver," but where there's one Reaver, you can be sure that a few more nearby. The actor in the photo wasn't identified, but the Logan IMDB page says there is an actor named David Kallaway who is playing someone called Danny Rhodes, and he looks a lot like that soldier. There is also another actor named Justin Lebrun who is listed as playing "Reaver," for what it's worth.
Introduced in 1988, the original Reavers were cyborgs committing crimes across the globe, but they were eventually defeated by the X-Men. Pretty Boy, Skullbuster, and Bonebreaker were the only three able to escape that encounter, but they were soon recruited by Donald Pierce to work alongside Lady Deathstrike and three former Hellfire Club mercenaries to dish out revenge against the X-Men and eliminate mutants in general. Pierce claimed to have created the Reavers himself, but it was never confirmed whether he was telling the truth. As time passed, the remaining Reavers continued to battle the X-Men and a few other Marvel heroes (like The Punisher), but they grew to hate Wolverine the most.
According to recent reports, Narcos star Boyd Holbrook will play Donald Pierce in Logan. He will be the head of security at Transigen, the mysterious organization that is experimenting on young mutants and turning them into living weapons. No doubt that the Reavers are also products of Transigen's nefarious plans, and judging by how the assassin above looks, we wouldn't be surprised if they've been technologically enhanced somehow, though not necessarily to the point they are full-blown cyborgs. That said, it remains to be seen if Logan will directly adapt the Reavers mentioned above or if they will just be a generic group of killers. Either way, we can expect them to enforce the will of Donald Pierce and his superior, Zander Rice. In the case of this movie, that will mean eliminating the nearly-200-year-old mutant with metal claws trying to screw up their operation.
Logan slashes its way into theaters on March 3, 2017.
Connoisseur of Marvel, DC, Star Wars, John Wick, MonsterVerse and Doctor Who lore. He's aware he looks like Harry Potter and Clark Kent.
Your Daily Blend of Entertainment News
Thank you for signing up to CinemaBlend. You will receive a verification email shortly.
There was a problem. Please refresh the page and try again.