16 Great Movies Coming To Hulu In November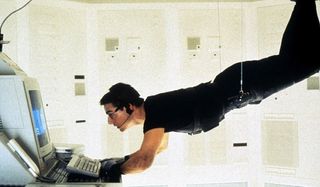 While the monthly purge of films from streaming services like Netflix, Amazon Prime, and Hulu (opens in new tab) can mean that an old favorite is vanishing with the wind, it also means that a restocking of titles is in order. Call it the natural balance of the streaming media world, as new titles come into play, and old friends switch allegiances, all in the name of entertainment. Clear your schedules for the following flicks that are hitting the Hulu line-up as of next month!
Spaceballs
Mel Brooks films are almost always an occasion to celebrate, depending on how much you're willing to defend Life Stinks or Dracula: Dead and Loving It!. But at the very least, we can all agree that out of all of his fake sequels he's promised us over the years, Spaceballs is the one we wish he'd deliver on in spades. If you can, watch this one on a double bill with Galaxy Quest, and give yourself a well earned break from everything.
Election
In 1999, the story of an election between a driven woman, a popular man "not ready for prime time," and a protest candidate that looks to spoil the campaigns of both was merely fodder for really funny independent comedies. Yet almost 20 years on, Election has now taken a really funny, really scary extra dimension of humor, what with 2016's electoral process coming extremely close to the clusterfuck that's seen in Reese Witherspoon's fight against the establishment, as well as her contemporaries. Watch this gem of a film to laugh, then maybe cry a little bit thanks to reality not being nearly as funny.
The Addams Family
No, this isn't deja vu, as we previously reported this title as leaving Netflix by the end of this month. However, it looks like this and a slew of other Paramount titles are making an exodus from the home of the red envelope to the house of something green! Which is a very good thing, considering that if you're a true Addams Family fan, you won't let something as silly as the passing of Halloween stop you from enjoying this comedy classic year round!
Addams Family Values
What's better than having one Addams Family film on Hulu? Having BOTH Addams Family films available for your streaming pleasure! (Addams Family Reunion doesn't count.) Call it crazy, but there's a case to be made about Addams Family Values being the better film out of the already exemplary duology. With Fester being given a hilarious love interest in Joan Cusack's Debbie, a new baby raising Hell for Morticia and Gomez, and Wednesday and Pugsley being away at summer camp, there's more morbid excitement to be had in this underrated follow-up.
Fatal Attraction
Another migrating favorite that's jumping off the Netflix bandwagon, Fatal Attraction is one of the best thrillers the 80's has ever had to offer. However, considering Glenn Close and Michael Douglas have both featured in separate corners of the Marvel Cinematic Universe, this could also be seen as a really interesting MCU spin-off, when framed in the right head-canon. Still, in its original form, Adrian Lyne's shocker about infidelity, obsession, and home cooking is a hell of a film to experience.
From Russia with Love
Bond is back! While there's no news about a new James Bond movie coming anytime soon, and with Daniel Craig's status still being in question, it's a good time to go back to the classics! And what better month than November, the unofficial month of James Bond celebrations, for some of his best outings to hit streaming! Arguably the best Sean Connery film in his tenure, From Russia With Love harkens from a time where gadgets weren't as prevalent, the action was more brutal, and the one liners were just as sharp. Robert Shaw's Red Grant is just the cherry on top of a beautifully kick-assed sundae.
The Living Daylights
Timothy Dalton never got his due as James Bond, especially because without his two extremely serious films in the series, we'd have never gotten the Casino Royale that we saw break new ground for Daniel Craig's interpretation back in 2006. The Living Daylights has more in common with traditional Bond than License To Kill ever did, but it's still an extremely solid entry in the '80s canon of the character. Dalton shines in this one, and you owe it to yourself to watch this one again.
On Her Majesty's Secret Service
A person's favorite Bond movie is something that's to be taken with the utmost care and diligence. If you're a Roger Moore fan, you're undoubtedly used to explaining yourself quite a bit, while most Sean Connery fans can fling a dart and defend any of his films with a drop of a hat. But to be a fan of On Her Majesty's Secret Service is an honor that requires the most explanation, as George Lazenby's solo performance as 007 is one of the deeper cuts of the series' history. Yet the honors it's received are well earned, and you can see why with each frame of brilliance, courtesy of Hulu.
The Manchurian Candidate
With an excellent remake in the Denzel Washington led 2004 interpretation, The Manchurian Candidate is a film that's a rare case of the revision being as good as the original. John Frankenheimer's 1962 adaptation of the novel with the same name saw Frank Sinatra and Laurence Harvey originating the roles that Washington and Liev Schrieber, as the two are ensnared in a Communist plot to assassinate a presidental candidate and install Harvey's Raymond Shaw as a puppet leader. Though if there was one highlight we had to provide from this film in order to entice you to watch it, it would be this: Angela Lansbury plays one stone cold villain in this picture, and she's amazing.
Mission: Impossible
Looking back to the beginnings of the Mission: Impossible franchise, there's no way Paramount could have seen it becoming as successful as it did. Audiences in 1996 were probably as surprised as studio execs when Tom Cruise helped turn an adaptation of a 1960's TV show into a pulse pounding franchise that's lasted for 20 years, and could probably go just as long if Cruise keeps it up. With a new film on the horizon, now's the perfect time to go back in time and see how it all began, should you choose to accept it.
Punch-Drunk Love
Every time Adam Sandler makes a new comedy, it's hard not to think back to the period in time when he looked to try new things and make drama his new home. Punch-Drunk Love is one of those experimental films that the funnyman had made earlier in his career, and has still stuck with us all this time. His portrayal of the constantly hectored Barry is sweet and earnest, while at the same time earning some of the laughs that Sandler was best known for in the late 90's / early aughts. Were we, and director Paul Thomas Anderson, ever that young?
Rounders
Did you watch Rounders like we told you to on Netflix? Are you upset that you're unable to memorize the slick dialogue and/or impressive poker skills on display? Well cheer up... because it's moving to Hulu in November! This noir-ish drama starring Matt Damon and Edward Norton is worth seeing more than once, as the acting alone is rich enough to keep coming back. Though, while we're on the subject, that rematch between Damon and John Malkovich's Teddy "KGB" is one hell of a final showdown.
Saved
Has it really been 12 years since Saved was in theaters? It honestly feels like a much longer gap, as not only has the entire cast grown older and wiser, but this sort of movie isn't like anything we've seen in some time. A dark comedy with a nicer streak than you'd think on the surface, Saved's story of a young Christian teen trying to do the right thing, and finding herself in a bigger mess than she'd ever hoped for, ultimately relies on its cast as its protagonist relies on her friends.
Showgirls
One critic's trash is another person's treasure, and nowhere is this more readily apparent than in the afterlife that Paul Verhoeven's trash-tastic classic Showgirls has enjoyed. While the film was panned in its 1995 release, it has since spawned a direct-to-video sequel, a musical parodying it, and scores of loyal fans who knew not to take the raunchy journey of Elizabeth Berkley's Nomi too seriously. Now, it's on streaming, waiting for you to take its surprisingly entertaining journey with every laugh, shock, and smile along the way. Oh, and needless to say, watch who you view this one with, as it's a hard NC-17.
Up in the Air
Up in the Air should have gotten more notice than it did the year it showed up to the Oscars. With Avatar and The Hurt Locker fighting it out for press and prestige, Jason Reitman delivered the best film of his career thus far, while also helping George Clooney and Vera Farmiga polish their stars a little brighter, and helping catapult Anna Kendrick to the heights she inhabits today. Topical for its era, yet still strongly resonant, the story of Clooney and Kendrick setting out on the road to better fire people across America has a very wry sense of humor, and an equally huge heart.
Creed
Chances are, you've already seen Creed, as it's not that old of a movie and it was quite heavily discussed during last year's awards season. However, if you haven't had the opportunity, Hulu is here to save the day, as Ryan Coogler's follow-up to the Rocky series is coming to streaming. Even better is the fact that Hulu will also become the home to every other Rocky film, allowing you to see Sylvester Stallone's climb to the top, before he shifted over to becoming Michael B. Jordan's stoic mentor. Sounds like a good Thanksgiving to us!
Your Daily Blend of Entertainment News
Senior Movies Contributor
CinemaBlend's James Bond (expert). Also versed in Large Scale Aggressors, time travel, and Guillermo del Toro. He fights for The User.