The Two Batman Villains Who Probably Won't Appear In The DCEU Anytime Soon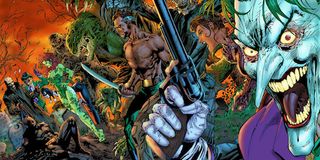 There's no question that Batman has the biggest and most colorful collection of villains at DC Comics. In fact, aside from Marvel's Spider-Man, he arguably has the best rogues gallery period. So whenever a new Batman movie is announced, there are plenty of candidates in contention to battle the Dark Knight, especially right now with the DC Extended Universe still in its youth. However, it looks Ra's al Ghul and his daughter Talia may not get to partake in the cinematic festivities for the foreseeable future.
Recently, actress Teresa Palmer expressed interest in playing Talia al Ghul in the upcoming solo Batman movie. Unfortunately for her, The Wrap has learned that Talia and her father Ra's are off the table for The Batman and any other DC film "on the horizon." That doesn't necessarily mean that they will never be seen in the DCEU for as long as it exists, but for now, the creative minds don't have any plans to put them on the big screen. No reason was provided for their exclusion, although the article did note how they played big roles in Christopher Nolan's Dark Knight trilogy. Talia was also one of the villains who was supposed to appear in the cancelled George Miller film Justice League Mortal.
If it's any consolation, Ra's al Ghul and Talia did get to shine in recent years on the big screen, as mentioned earlier. Ra's was Batman Begins' main antagonist, originally pretending to be Henri Ducard in front of Bruce Wayne, but unveiling his true identity when he launched his attack on Gotham City. Liam Neeson also briefly reprised Ra's al Ghul in The Dark Knight Rises as a hallucination, but it was his daughter Talia who served as that movie's secret antagonist. Like her father, she pretended to be someone Bruce Wayne could trust (adopting the Miranda Tate identity), but later revealed herself to be pulling Bane's strings.
Even without Ra's and Talia, there are still plenty of Batman villains to pick from for the DCEU, some of whom have already been introduced in Suicide Squad. Harley Quinn, Deadshot and Killer Croc were members of Task Force X, while Joker caused trouble on the side. Director Zack Snyder also mentioned that he'd originally planned to include both the Clown Prince of Crime and Riddler in Batman v Superman: Dawn of Justice, but later decided with screenwriter Chris Terri to leave them out so they could spend more time focusing on the conflict between the eponymous protagonists.
As far as The Batman is concerned, the only villain who's been announced for that feature is Slade Wilson, a.k.a. Deathstroke, one of the DC universe's top mercenaries. However, there have been reports that at least part of the story will take place in Arkham Asylum, meaning we could see some of the Caped Crusader's other rogues in smaller roles. If that happens, though, Ra's al Ghul and Talia won't be participating in any of the insanity inside or outside of the mental institution
The Batman hasn't been assigned a release date yet, but its main hero will return in Justice League on November 17, 2017.
Connoisseur of Marvel, DC, Star Wars, John Wick, MonsterVerse and Doctor Who lore. He's aware he looks like Harry Potter and Clark Kent.
Your Daily Blend of Entertainment News
Thank you for signing up to CinemaBlend. You will receive a verification email shortly.
There was a problem. Please refresh the page and try again.