One New York Police Department Is Using Batman To Fight Those Clowns And It's About Damn Time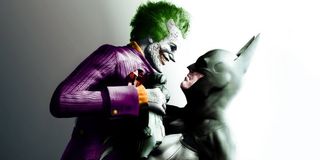 These days you can barely sign in to a social media account without reading about another close encounter with a crazy clown somewhere in America. Frankly, I am not super excited about that notion. Maybe it's the Gotham City in me; we just have a bad history with freaks dressed like clowns. However, one American police department seems truly intent on doing something about the clown encounters, and as such, they have called in an expert: The Caped Crusader. Check out the Facebook post below to see more.
The police department in Fairpoint, New York seems to have realized that people are sick and tired of these crazy clowns running around. According to the above Facebook post, the cops in Fairpoint recently decided to enlist the help of Batman in order to fight these fun-loving psychos. The post even comes with two separate photos of a group of officers ready for action (one of whom is wearing a Batman mask) as well as a photo of the Bat signal to let The Joker and his army of creepy clowns know that The Dark Knight is out on the prowl this Halloween.
There are two very clear objectives to this Facebook post. The first goal is to obviously have a bit of Halloween fun. Police departments protect and serve the community, but that only works if those involved in the policing activities are willing to engage the community in activities outside of crime fighting -- a point that's reiterated several times in the comments section of the post. The second intention of this status update seems to be the desire to quell genuine public fear of the clowns. By framing the issue through the Batman lens, the Fairpoint Police Department can effectively neutralize the paranoia of average people by pointing out how inherently ridiculous this current clown craze truly is, while also acknowledging that they intend to do something about it.
Overall the response to the Facebook post appears to be mostly positive. People have chimed in their support for the local police department, and even former residents who have since left the city have commented to remark on the humor of it all. That being said, a small handful of the comments have taken a negative attitude towards the post, stating that it makes light of a serious situation, but generally those comments appear to be few and far between.
With the American clown craze already spiraling out of control, it's nice to see that police officers around the country have decided to acknowledge and engage the issue. If they want to have a bit of Batman-themed fun along the way, then we are completely on board with that as well. As always, make sure to stay tuned to CinemaBlend for all of the latest and greatest Batman news.
Your Daily Blend of Entertainment News
Originally from Connecticut, Conner grew up in San Diego and graduated from Chapman University in 2014. He now lives in Los Angeles working in and around the entertainment industry and can mostly be found binging horror movies and chugging coffee.