The Nightmare Before Christmas Told With Emojis Is Adorably Creepy And Fun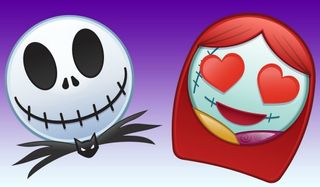 The Nightmare Before Christmas is the perfect film to watch at Halloween. But those of you who have watched The Nightmare Before Christmas regularly at this time of year ever since it was released back in 1993 and have been looking for a brand new way to devour the film are in luck. Because Disney has just released a short animated film that re-tells The Nightmare Before Christmas through emojis. And it actually works, while almost being just as spooky and creepy as the original.
Well, that was weird. For those of you that couldn't keep up, The Nightmare Before Christmas revolves around Jack Skellington, voiced by Chris Sarandon, who lives in Halloween Town, a fantasy world which is made up of citizens that are famous creatures that we associate with the holiday.
But after growing tired and weary of celebrating Halloween every year, Jack stumbles upon Christmas Town and becomes so emboldened by the joy and cheer that it possesses that he decides that he and the citizens of Halloween will take it over for the year. To do this, they must kidnap Santa Claus. But when Santa is captured by the evil Oogie Boogie, Jack takes it upon himself to deliver his presents to the world, as well as trying to save Santa in the process.
Based upon a poem that Tim Burton originally wrote back in 1982 while he was an animator over at Walt Disney Feature Animation, The Nightmare Before Christmas was then written by Michael McDowell and directed by Henry Selick in 1993. Burton only produced because he was committed to Batman Returns, while he also admitted that he didn't want to be involved in the painstakingly long process of stop-motion animation.
Eventually released on October 29, 1993, The Nightmare Before Christmas was a critical and financial success, and it has since grossed $75.1 million after being re-released a number of times, while it cost just $18 million to make.
But while the emoji version of The Nightmare Before Christmas was indeed a delight to behold, it didn't really show off the film's tremendous musical numbers. And considering that we are currently in the swing of Halloween, what better reason to watch its opening salvo, "This Is Halloween," to really get us in the spirit.
Utterly dazzling. Rather excitingly, Tim Burton's next project is the live-action remake of Dumbo, which I'm guessing will be a tad less gruesome and creepy than The Nightmare Before Christmas. Right?
Your Daily Blend of Entertainment News