The Ghost In The Shell Trailer Is Here And It's Stunning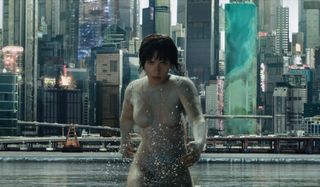 As one of the most popular manga comics to ever be released, it's not surprising that there's a lot of pressure on Ghost In The Shell to deliver. The first trailer for the film has now been released and it gives us a clear indication of the style, scope, and creativity that has gone into Ghost In The Shell, while at the same time suggesting that the sci-fi action thriller will deliver. You can check out the first trailer for Ghost In The Shell in all of its glory by clicking below.
I was lucky enough to travel to Tokyo this weekend to see the trailer for Ghost In The Shell alongside Scarlett Johansson, Rupert Sanders, and Takeshi Kitano and a rather raucous crowd, each of whom appeared to adore and then celebrate the footage when it came to an end. It's easy to see why, too.
Not only did it suggest that it could be a merging of Blade Runner and The Matrix (a comparison that I immediately recognise as hyperbole, as well as a bar that no film of any ilk could match), but the first trailer for Ghost In The Shell did a sterling job of succinctly setting up the film's plot and showing that director Rupert Sanders has a good handle on the mood, urban setting, and action sequences.
It also helps that Scarlett Johansson looks like the ultimate bad-ass in the film, too. The 31-year-old will portray The Major in Ghost In The Shell, who is a cyborg policewoman that has a human brain. Alongside her own special task force Special 9, The Major is tasked with thwarting cyber criminals and hackers. But when a new enemy raises his head and starts to sabotage Hanka Robotic's artificial intelligence technology, The Major is pushed to the limit and is forced to question her own identity, too.
There's been a lot of talk surrounding Ghost In The Shell ever since it was announced that Scarlett Johansson would be taking the lead role of The Major, even though she's white and the manga character was Asian. This first footage in no way brings an end to this hugely important discussion, but it at least suggests that Ghost In The Shell has some cinematic positives, too.
We'll finally get to see Ghost In The Shell when it's released on March 31, 2017. Keep glued to Cinemablend over the next few days for coverage from my Ghost In The Shell Tokyo press event, which will include pictures of the costumes, weapons, and robots, as well as news from the Scarlett Johannson, Rupert Sanders, and Takeshi Kitano Q&A.
Your Daily Blend of Entertainment News