Ghost In The Shell Just Dropped A Ton Of Pictures Of Its Costumes, Weapons And Concept Art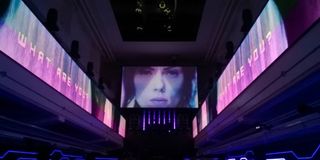 Next year we finally get a live-action version of Ghost In The Shell, the hugely successful manga from Masamune Shirow that has defined the genre and has been a Japanese pop culture beacon ever since it was originally published in 1989.
Starring Scarlett Johansson, Pilou Asbaek, Takeshi Kitano, Juliette Binoche, and Michael Pitt, and directed by Rupert Sanders, there's obvious pressure on the first Hollywood version of Ghost In The Shell to match its predecessors. Over the weekend, Paramount celebrated the release of Ghost In The Shell's first trailer with a huge event in Tokyo, which gave us an inside look at the costumes, weapons, and concept art that will make up the film.
You can have a gander at what was on display, below. Starting with none other than Scarlett Johansson's character The Major:
The Major
The field commander of a Cyborg counter-cyber terrorist squad named Section 9, The Major is described as a "full-body prosthesis" augmented cybernetic human and also just so happens to be played by Scarlett Johansson. As well as the above snazzy bomber jacket, which she wore during an interrogation scene we were privy to at the event, and the Major's police bike Tavor SMG weapon, we were also presented with a look at her tactical uniform and bright white thermoptic pistol.
Batou
Batou is the second in command of Section 9 after The Major, who he also partners with in the field. Batou is an expert marksman and is highly skilled at combat, having originally served as a sergeant in the Army Ranger before he was cyberized. Batou is the most enhanced cyborg in Section 9, and he possesses cybernetic eyes that give him a wide array of visual abilities. In Ghost In The Shell he'll be played by Pilou Asbaek (Game Of Thrones).
Batou's Car
Like any proud motorhead, Batou holds a special affinity for his car, so the vehicle was always going to feature prominently in Ghost In The Shell. In previous animes, Batou has been shown driving a Lancia Stratos and Lotus Esprit. The latter car is the inspiration for the upcoming blockbuster, and it's clear to see why Batou is so devoted to it, as not only does it look like it can burn some serious rubber, but it looks like something that Doc Brown himself would drive all the way up to 88 mph.
Blue Robotic Geishas
As well as proudly boasting about the film's international cast, Rupert Sanders spoke of the importance of paying tribute to Ghost In The Shell's Japanese roots during both his Q-and-A alongside Takeshi Kitano and Scarlett Johansson, and his roundtable discussions with select members of the media (of which we were lucky enough to be part). Despite being shot in New Zealand and Hong Kong, the film takes place in a futuristic Tokyo, and Sanders has looked to evoke the city with an array of Japanese imagery and iconography. This includes a robotic Blue Geisha, who while mesmerizing to look at and perfectly designed, is a little terrifying, too. Especially since when her face opens up she looks like a demented C-3P0.
Concept Art
To give us further insight into the scope and use of technology in this futuristic version of Tokyo various pieces of concept art for Ghost In The Shell were dotted across the room. This included these exterior shots of the city awash with colorful 3D advertisements that help to showcase its captivating visuals.
While we also got a look inside Hanka Robotic's artificial intelligence technology, which is where the Cyborgs are made, too:
As well as one of the robotic brethren that works there, too.
At the event we were also confronted with a variety of phrases and questions, such as, "What are you?" and "Your shell belongs to them ... your ghost is yours," which were written on the walls of the rooms and set up the film's themes. We were also treated to a live version of Ghost In The Shell's original theme from its composer Kenji Kawai. This was played over the film's shelling sequence, which was a remake of the anime's iconic opening. Sanders later admitted, though, that he's not sure if the theme will be in the released version of Ghost In The Shell as he's still not finished the film yet. Just in case it doesn't you can listen to it and watch the shelling sequence, below:
While you're here you should also check out the first full length trailer for Ghost In The Shell again. Especially since it is rather impressive. We've got it for you on the next page:
Keep checking CinemaBlend over the next few days, as we'll be posting further stories from the Ghost In The Shell's Tokyo event, including comments from the Q&A with Scarlett Johansson and Rupert Sanders and my roundtable discussion with the director. Ghost in the Shell opens in theaters on March 31, 2017.
Your Daily Blend of Entertainment News