Will We See Hogwarts In The Fantastic Beasts Movie? Here's What David Yates Says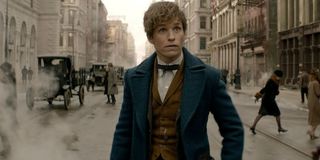 With the release of Fantastic Beasts and Where to Find Them, we are being introduced to a whole host of new characters that get into magical antics several decades before Harry Potter, Hermione Granger, and Ron Weasley were even twinkles in their dads' eyes. But while the above trio are unlikely to ever cross over into the franchise, it turns out that the future Fantastic Beasts movies could still be partly set at Hogwarts.
Director David Yates made this admission to me on Monday when I sat down to talk with the filmmaker about his work on Fantastic Beasts and Where to Find Them. After I quizzed David Yates about the revelation that a younger version of Albus Dumbledore will in fact be in the follow-up, I asked him about whether Hogwarts will be used as a setting for the film. This led him to admit that they're currently going back and forth over whether to actually include it. Yates explained:
At the moment it doesn't sound too positive that we'll actually get to see Hogwarts School Of Witchcraft And Wizardry in Fantastic Beasts And Where To Find Them 2. However, the fact that they're already having discussions about whether to include the institution just two films into the franchise bodes well for it being incorporated at some point.
J.K. Rowling has already announced that there will indeed be four further installments to the Fantastic Beasts and Where to Find Them universe, which leaves plenty of time for Hogwarts to appear again. Plus there's an in, too; the first trailers for _Fantastic Beasts and Where to Find Them _have already revealed that Eddie Redmayne's Newt Scamander was kicked out of Hogwarts for endangering human life, but that Albus Dumbledore argued strongly against the magizoologist's expulsion.
But since it has also been confirmed that Fantastic Beasts and Where to Find Them 2 will be mostly set in Paris, there's a good chance that our return to Hogwarts will only be fleeting- if it occurs at all. At this point we'll just have to wait and see. Thankfully we now only have a few more days to wait until the first installment in the Fantastic Beasts franchise is with us. And just to help you get that little bit more excited for the film, here's the trailer for you to fawn over.
Fantastic Beasts and Where to Find Them will be in cinemas from November 18, while keep glued to Cinemablend for further revelations from my discussions with the film's cast and crew in the build up to its release.
Your Daily Blend of Entertainment News