Why Joss Whedon Loves The Idea Of Star Wars Standalone Films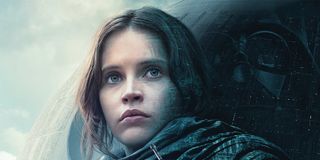 In a few days Rogue One: A Star Wars Story will take everything we have come to know and love about the Star Wars franchise and turn it on its head. The first in a series of planned standalone movies, Rogue One has moved the saga into uncharted territory by focusing on new, never before seen characters. It's a bold choice, and it apparently has Joss Whedon insanely excited for the future of the franchise. He explained:
Joss Whedon spoke to Variety at the premiere of Rogue One: A Star Wars Story, and voiced his support for the idea of standalone Star Wars movies. He seems particularly interested in the idea of a film series producing movies that don't necessarily have to adhere to any sort of overarching narrative. Instead of constantly building to enormous tent pole events, the Star Wars series has the opportunity to branch out into new directions and explore the minutiae of the universe. This movie may focus on the mission to steal the Death Star plans, but the next standalone could go into an entirely different corner of the galaxy far, far away.
This ultimately is the biggest advantage that Star Wars has over other blockbuster franchises: the universe has become so much bigger than the characters who inhabit it. Rogue One proves definitively that a Star Wars movie doesn't need to rely on familiar heroes in order to work; we can shift away from the story of the Skywalker family, and audiences will still be invested in the drama. That's something that fans of the Expanded Universe have known for quite some time, but Rogue One really represents the first major film to bring that idea to the table.
With Rogue One generating a ton of early buzz, all eyes are on Disney and Lucasfilm to dig deeper into the greater Star Wars lore moving forward. With innumerable obscure stories to draw from, there are potentially limitless opportunities to explore the galaxy far, far away. Perhaps in the future we will get a Knights of the Old Republic movie, or even a Shadows of the Empire movie. The projected success of Rogue One makes anything possible at this point.
You can check out Joss Whedon's interview below:
We will keep you posted regarding anything and everything related to Rogue One as more information becomes available to us. The first standalone Star Wars movie will hit theaters this weekend on December 16.
We only have a few days of waiting left, so make sure to check out the final trailer for Rogue One: A Star Wars Story on the next page to get a better look at what the first standalone Star Wars movie has in store!
Originally from Connecticut, Conner grew up in San Diego and graduated from Chapman University in 2014. He now lives in Los Angeles working in and around the entertainment industry and can mostly be found binging horror movies and chugging coffee.
Your Daily Blend of Entertainment News
Thank you for signing up to CinemaBlend. You will receive a verification email shortly.
There was a problem. Please refresh the page and try again.