Superhero Movies: Which Franchises Are Healthiest, And Which Are In Danger?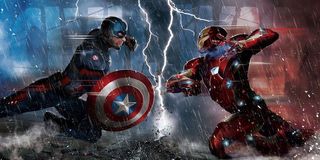 Blockbuster franchises currently reign supreme, and no type of blockbuster franchise is hotter than the world of comic books. From Marvel Studios, to Warner Bros./DC, to Fox's X-Men universe, it seems that every major studio wants to get in on the action these days with their own take on the modern superhero. If you're a fan of heroes and villains who have an affinity for capes, then you already know that it's a great time to be alive.
With that in mind, we have gone the details to determine the health of every major superhero franchise now that we've come to the end of another major year. Some of these properties are doing incredibly well, while others desperately need a hit. Check out our take on the current lineup, and let us know what you think of your favorite superhero franchise! Now let's get started with the franchise that appears to be in the best shape at this point...
Marvel Cinematic Universe
It should come as no surprise that the Marvel Cinematic Universe is currently riding high as the most critically consistent and successful superhero franchise of 2016. Phase 3 of the MCU kicked off with Captain America: Civil War and Doctor Strange earlier this year, and things have never looked better for Marvel's silver screen properties. As of right now, Civil War even currently holds the mantle of 2016's highest grossing film. It's no secret that fan-favorite characters like Chris Evans' Captain America and Robert Downey Jr.'s Iron Man continue to impress, but the MCU has also done a phenomenal job when it comes to easing fans into future heroes as well. With Tom Holland's Spider-Man, Chadwick Boseman's Black Panther, and Brie Larson's Captain Marvel set to make their proper introductions over the course of the next few years, it seems entirely plausible (and probable) that Marvel will keep this momentum going well into the future.
DC Extended Universe
Unlike Marvel, DC has taken a far more unconventional approach to the creation of its own cinematic universe. Sometimes the gambles pay off, and other times they don't. Batman v Superman: Dawn of Justice and Suicide Squad proved to be incredibly divisive movies when they hit theaters earlier this year; neither an out-and-out flop, but both drawing plenty of ire from critics. Warner Bros. and DC Entertainment have done quite a bit of behind-the-scenes shuffling in recent months with regards to leadership (particularly with the promotion of Geoff Johns as the new mastermind behind the operation), so our collective hope remains high that these changes will go into effect by the time Wonder Woman and Justice League debut in 2017. The DCEU is not currently on very solid ground (at least compared to the main competition), but there's enough evidence to suggest that we can stay hopeful for the future.
Deadpool/X-Men/Wolverine
This is a hard one to get a read on because 20th Century Fox's mutant universe has become so fractured and diversified over the last few years. Even after all of the Gambit delays, in the world of solo franchises there's plenty to get excited about. Deadpool has become a massive, worldwide phenomenon, and early buzz surrounding Logan indicates that Hugh Jackman is about to leave the role on a high note. It's even more exciting when we consider the fact that X-23 may actually be able to take over the Wolverine franchise after his departure. That being said, the actual X-Men franchise doesn't appear on sturdy ground following the mediocre reception of Bryan Singer's X-Men: Apocalypse. As of right now, Fox does not actually have a traditional X-Men movie on its schedule, which seems like a solid indication that the studio wants to change pace and refocus its attention on newer series like Deadpool 2 and Josh Boone's New Mutants for the foreseeable future. The X-Men universe isn't quite as strong as it was after the release of Days of Future Past, but it's showing quite a bit of adaptability and promise.
Fantastic Four
Out of all the superhero franchises out there, the one that seems to have experienced the roughest Hollywood existence over the course of the last few years has to be Fantastic Four. After two mediocre films in the 2000s, the franchise received a critically panned reboot under the guidance of Josh Trank in 2015, and the less we say about that atrocity the better. As of right now there doesn't appear to be any concrete confirmation of a new Fantastic Four film at 20th Century Fox, and recent rumors have suggested the possibility of the rights potentially returning to Marvel at some point in the near future -- although we wouldn't bank on it. Marvel's First Family is in pretty rough shape right now on the big screen, and it will take some major behind the scenes shifts to correct course.
Sony/Harbinger Cinematic Universe
Following a productive 2016 and looking ahead to the future, Sony has quite a few properties on the burner that are completely worth getting excited about. As many of you know, the partnership to share Spider-Man with Marvel Studios will lead to the Sony produced Spider-Man: Homecoming entering the MCU in 2017, and there appears to be nothing but enthusiasm regarding that project. However, looking beyond the Web Head, we're also incredibly interested in Sony's planned Harbinger Cinematic Universe -- which will take a number of more obscure Valiant Entertainment franchise such as Harbinger and Bloodshot and combine them into a cohesive, expansive franchise. Although the Valiant comic book series are not nearly as iconic as Marvel or DC properties, they represent a major breath of fresh air and could very easily allow Sony to carve out a very specific niche in the ever-growing realm of comic book franchises. That's something to which we can look forward.
What's your current favorite superhero franchise? Let us know what you think in the comments section below!
Your Daily Blend of Entertainment News
Originally from Connecticut, Conner grew up in San Diego and graduated from Chapman University in 2014. He now lives in Los Angeles working in and around the entertainment industry and can mostly be found binging horror movies and chugging coffee.