This 90s Movies Dance Video Is The Best Kind Of Flashback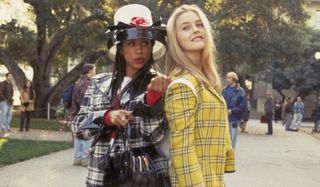 I think we can pretty much all agree that 2016 won't be remembered as the best year in recent memory. It's been a year full of depressing movie disappointments, and devastating celebrity deaths. In times like these, it's often easier to look back on a bygone golden age of cinema and reminisce fondly on the joy those movies brought us. With that in mind, a supercut of awesome 1990s dance sequences recently debuted on YouTube, and it should definitely help raise your spirits. Check out the video below and prepare to dance along.
Nostalgia for the 1990s has become a complete and utter epidemic over the course of the last few years and this video won't do much to ease that longing. Comprised of 86 movies, the supercut is set to the tune of Fatboy Slim's "Praise You" and it provides a glorious look into an iconic decade for film. The rhythmic editing of the piece gives it an undeniable energy, and it's impossible to shake the feeling of a glorious throwback dance party. It also doesn't hurt that the video is packed to the brim with very notable 1990s icons like Jim Carrey, Mike Myers, and Janeane Garofalo. If you grew up during this era then the supercut should serve as a total (and welcome) blast from the past.
Half the fun of this video is attempting to figure out how many of the 86 movies you can actually name without using Google. Some of them are incredibly obvious, such as A Night At The Roxbury or Austin Powers, but others (like Tom Hanks' dance scene in Joe Versus the Volcano) are definitely more obscure. If you think you have what it takes to name all 86 of these movies, then you better make sure you're up to date on your classic 1990s cinema.
Of course, we should also acknowledge the story behind this video's creation. It was edited together by YouTube user, Robert Jones, who wanted to create a video celebrating an era in his life during which he worked at a Blockbuster Music store. There's arguably no phrase more quintessentially 1990s than "Blockbuster Music," and it serves as a glorious reminder of how uniquely awesome and iconic that particular decade has become for people who lived it. It's a ten year span completely defined by bizarre music (look no further than Fatboy Slim) as well as amazing cinema, and we will always look back affectionately on that particular time.
Regardless of whether or not you actually lived during the 1990s, it's still well worth your time to check out the supercut at the top of this article. It's fast-paced, it's frantic, and it will undoubtedly brighten your mood. In a year defined by tragedy and loss, that's probably something we could all use right now.
Originally from Connecticut, Conner grew up in San Diego and graduated from Chapman University in 2014. He now lives in Los Angeles working in and around the entertainment industry and can mostly be found binging horror movies and chugging coffee.
Your Daily Blend of Entertainment News
Thank you for signing up to CinemaBlend. You will receive a verification email shortly.
There was a problem. Please refresh the page and try again.