Pitch Perfect 3 Is Definitely Happening, Of Course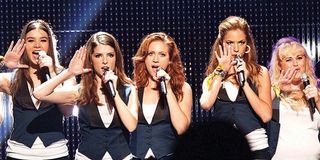 In probably the least shocking news we'll hear all day, it appears that Universal is moving forward with another installment of perhaps the most surprising hit franchise in recent memory, Pitch Perfect. That's right, aca-people, Pitch Perfect 3 is happening, and they're bringing the original writer along for the ride.
Sources tell The Hollywood Reporter that Kay Cannon, who handled the scripting duties for the first two films, has just started negotiations with Universal and Gold Circle to perform the same task on the next chapter in the saga of the Barden Bellas. Again, this isn't a shocker as she has publicly stated that she wants to work on Pitch Perfect 3.
How Cannon accomplishes this feat, however, is another story. Just a warning, there will be some spoilers for Pitch Perfect 2 beyond this point.
At the end of the last film, most of the collegiate a cappella super group has moved on, as all the key members of the team graduate. It'll fall to Cannon to figure out a way to reunite the girls, which may be even trickier than it appears.
Part of what made the first two films so profitable is that they were produced on the cheap—Pitch Perfect cost $17 million to make, while Pitch Perfect 2 reportedly cost $29 million. This includes relatively modest fees for the two biggest stars, Anna Kendrick and Rebel Wilson, both of whom were apparently paid in the low six-figures for the first movie (reportedly $2 million a piece for the second). According to THR, there are no options in place for a third film, so it should prove to be much more expensive to sign either of them.
Then there's the question of whether or not either Kendrick or Wilson want to come back at all. Even before PP 2 hit theaters, Wilson started talking enthusiastically about part 3. Kendrick, on the other hand, reportedly didn't particularly want to make the sequel, and as it stands, it seems unlikely that she'll want to harmonize with the Bellas yet again. So while we may see Fat Amy, Beca might have headed off to Hollywood to make her own music.
Pitch Perfect 2 does introduce a new, younger member, Emily (Hailee Steinfeld), so the prevailing theory is that she will take over the reins of the Bellas moving forward. This would also open the door for some of the original Bellas, like Fat Amy or Chloe (Brittany Snow), to come back and serve in an advisory capacity. If you're going to have a mentor, it might as well be a rambunctious Australian a cappella singer.
While the wheels are definitely rolling, Pitch Perfect 3 is still a ways off. Though she has expressed interest, there's no word on whether or not producer and director Elizabeth Banks will return. But it's early in the going, and Pitch Perfect 2, which is in theaters now, continues to make money, recently topping the $250 million mark worldwide.
Your Daily Blend of Entertainment News