Listen To Ariana Grande And John Legend's Beauty And The Beast Full Song Right Now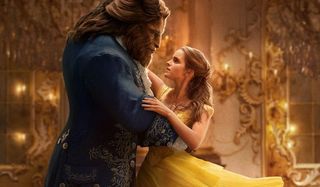 There are so many classic songs from the 1991 animated version of Beauty And The Beast that it's easy to end friendships when debating your favorite. So obviously there's a lot of pressure on the upcoming live-action version to at least match the original's soundtrack. We now have our first indication of whether the new incarnations will cut the mustard, as Disney has released Ariana Grande and John Legend singing the title track of Beauty And The Beast.
I have to admit that for the first thirteen seconds I was very worried, as it sounded just like a karaoke version of Beauty And The Beast. Luckily for everyone involved in the remake, they scored two of the finest singers in modern music to work their magic on the song.
So when Ariana Grande started to sing, my initial fears were almost instantly quashed. Then by the time that John Legend had joined in the fun, I had been fully charmed and my faith in the live-action version was restored. If the actual music to the song had featured any personality or charm of its own, then I would probably be running down the street holding a jukebox with it playing above my head right now.
But what else did we expect? Of course Ariana Grande and John Legend were going to make the title track to Beauty And The Beast even more majestic. The big question now, though, is whether or not the live-action version can build on its promise and eclipse the original.
That's going to be a tall order, as the 1991 version of Beauty And The Beast became the first animated film to ever be nominated for the Academy Award for Best Picture, while its title track won the Academy Award for Best Original Song. However, in recent years Disney has shown that they have become a dab hand at outdoing their animated efforts with live-action versions, as Cinderella, The BFG, Pete's Dragon and The Jungle Book were each exemplary.
You can take a glimpse at the upcoming live-action version of Beauty And The Beast, and decide for yourself whether it has the credentials to top its predecessor, by watching its trailer below.
That looks pretty impressive to me. Audiences are clearly intrigued by the new Beauty And The Beast, too, because Fandango recently revealed that the advanced ticket sales for the film are through the roof. We'll get to see just how much fans love Beauty And The Beast when it's released on March 17.
Your Daily Blend of Entertainment News
Thank you for signing up to CinemaBlend. You will receive a verification email shortly.
There was a problem. Please refresh the page and try again.