Beauty And The Beast Has Brought Josh Groban On To Sing One Of Its Key Songs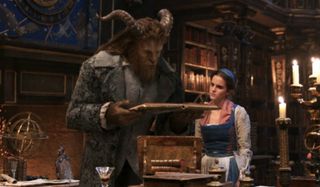 While the trailers, posters and sneaky peeks at Beauty And The Beast suggest that it's going to be an utterly gorgeous re-telling of the beloved Disney classic, there's one aspect of the film that we're going to have to wait until its release to be convinced by. I'm referring to how it handles Beauty And The Beast's soundtrack and songs. Clearly those involved in Beauty And The Beast knew that they somehow had to up the ante with new incarnations of these songs, which is why they brought on none other than Josh Groban to help. The singer supreme took to Twitter to reveal that he sings an original track entitled "For Evermore" in the new movie, as well as revealing a new poster for it.
Unfortunately Josh Groban didn't provide us with a snippet of the song, but further revelations regarding "For Evermore" were made to Entertainment Weekly. This included the description of the song as a "soaring ballad," and that it is performed in the film by the Beast (Dan Stevens), just after he has released Belle (Emma Watson) so that she can be with her father (Kevin Kline).
It was also revealed that the new song will appear on both the soundtrack and over the end credits. There is a little bit of confusion over what the song is actually called, though. That's because Josh Groban's tweet above clearly refers to it as "For Evermore", while Entertainment Weekly called it just "Evermore". Time will tell.
As you can imagine, Josh Groban was rather happy to have been asked to partake in such a song for Beauty And The Beast, telling EW just how "honored" he was to sing the "beautiful song" that has been written by Alan Menken and Tim Rice. Groban added, "Beauty And The Beast has been with me since my childhood, and to have a musical connection to this new film makes me so happy."
Alan Menken's work on the original Beauty And The Beast can be deemed rather successful as he won the Best Original Score and Best Original Song for its titular track at that year's Academy Awards. While Tim Rice is no stranger to Oscar glory himself, as he won the 1992 and 1994 Best Original Song Oscars for Aladdin's "A Whole New World", which he co-wrote with Menkin, and The Lion King's "Can You Feel The Love Tonight?".
If that hasn't got you excited for the reimagining of Beauty And The Beast then watching the trailer below should do just that.
We don't have long at all to wait for Beauty And The Beast's release date now, because it will finally be with audiences on March 17.
Your Daily Blend of Entertainment News
Your Daily Blend of Entertainment News
Thank you for signing up to CinemaBlend. You will receive a verification email shortly.
There was a problem. Please refresh the page and try again.