How Star Wars: Rogue One's Story Will Continue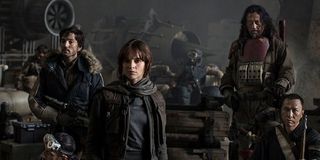 Even though there isn't that much of a gap between Rogue One and A New Hope, the Star Wars canon was always going to find room for a further tale to tell that picks up straight after the Battle Of Scarif. It's going to be with us much sooner than you thought, too, because a brand new Star Wars novel entitled Inferno Squad telling this story is on its way.
Star Wars.com has announced that Inferno Squad will be released in the summer, while also confirming that the efforts of Jyn, Cassian, Chirrut, K-2SO, Baze, and Bodhi to provide the Rebellion with the plans for the Death Star have left the Imperial army rather furious. The official description for Inferno Squad has also been released, and it gives Star Wars fans a tantalising preview of what to expect in the novel.
Sounds like some pretty compelling stuff. It's understandable that after the destruction of Scarif, and the fact that Jyn and her posse were able to steal the plans for the Death Star, Darth Vader and the Imperial army are hell-bent on retribution. Of course, they've already caused quite a bit of harm to Saw Gerrera, as he died during the destruction of Jedha during Rogue One, and the Partisans will be looking to avenge his death, too.
The introduction of the Partisans in Rogue One: A Star Wars Story was a key element in making the Rebels, their motives and morals much more complex and muddled than in previous installments to the franchise. Saw Gerrera is pretty much a terrorist that, alongside the rest of the Partisans, commits several violent campaigns against the Imperial army that the Alliance can't condone because they have resulted in civilian deaths.
While the attack on Jedha in Rogue One killed most of the Partisans, some survived and it will be the job of the Inferno Squad to hunt them down and erase the faction for good. You can find out if they succeed in their mission when Inferno Squad is released on July 25. As for Rogue One, it will be made available on home media in the coming months.
Your Daily Blend of Entertainment News