Should Star Trek Resurrect Leonard Nimoy's Spock Like Rogue One? Here's What His Son Said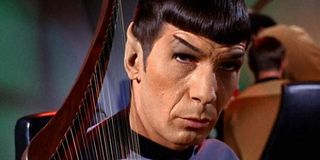 Ever since the release of Rogue One: A Star Wars Story there has been a growing suspicion that, rather than being an anomaly, we would see plenty future examples of the stunning use of special effects that resulted in Peter Cushing being resurrected and Carrie Fisher looking 21 again. Now whenever there's a chance to include a legendary character in a film, the speculation and debate over whether special effects will be used to do so will immediately begin. The son of one fallen sci-fi icon has already given his blessing, though, because Adam Nimoy believes it would be a great idea to resurrect his father Leonard Nimoy as Spock in future Star Trek endeavors.
Adam Nimoy, who directed the 2016 documentary For The Love Of Spock that focused on his father, made this admission to Trek Movie.com, insisting that he wouldn't have a problem with seeing his dad up on screen again as Spock. He also admitted that he was blown away by what Rogue One had achieved with Peter Cushing and Carrie Fisher. Adam Nimoy remarked,
There's every chance that an opportunity to resurrect Leonard Nimoy, who died back in 2015, as Spock could present itself in the near future. As the question was being posed to Adam Nimoy, the interviewer explained that Star Trek: Discovery will take place a decade before the events of the original Star Trek series, during which time Spock served under Captain Pike on the Enterprise.
Plus, plans are still afoot for a fourth Star Trek film, and it has already been confirmed by producer J.J. Abrams that it will see Chris Hemsworth reprise the character of George Kirk, who is the father of Chris Pine's James T Kirk that died in the epilogue for Star Trek. This clearly suggests that Star Trek 4 will include a time-traveling element, which could leave the door open for a CGI version of Leonard Nimoy's Spock to return, too.
Of course, we've already seen Leonard Nimoy reprise his role as the iconic Vulcan in both Star Trek and Star Trek Into Darkness. And while his return in the sequel was obviously a delight, it was his face to face with Zachary Quinto's Spock in the 2009 film that was particularly powerful. You can relive it below.
Stay tuned to Cinema Blend for details regarding Star Trek: Discovery, which will premiere this autumn, while we're still waiting for confirmation on when Star Trek 4 will be released.
Your Daily Blend of Entertainment News
Thank you for signing up to CinemaBlend. You will receive a verification email shortly.
There was a problem. Please refresh the page and try again.