Would Rogue One's Princess Leia Play The Role Again? Here's What She Said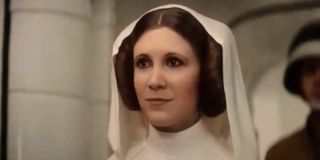 The death of Carrie Fisher at the end of last year not only brought a great cloud over anyone who has ever seen a Star Wars film, but it also meant that the character of Princess Leia would be looked at with extra reverence going forward. Of course, the use of special effects to seamlessly incorporate a 20-year-old Carrie Fisher into Rogue One just under 40 years after A New Hope was released is proof that it could happen again. And now Ingvild Deila, who physically played Leia before Carrie Fisher was superimposed over her in Rogue One, has now admitted that she'd love the chance to reprise the iconic role again.
While Ingvild Deila was open to it in her chat with Jamie Stangroom, it would undoubtedly be a very complicated issue if Ingvild Deila was asked to portray Princess Leia again in a Star Wars prequel. That's because while Ingvild Deila would be doing all of the heavy lifting as the character in front of the camera, it would then, once again, be replaced with the digital likeness of Carrie Fisher. Leaving fans not too sure whether to praise Ingvild Deila, the special effects gurus, or uneasy and ever so slightly convinced that this is the first sure sign that the world will soon be taken over by computers.
We're almost certainly nowhere near ready enough, both technically and emotionally, for a full on Princess Leia prequel that could star Ingvild Deila, though. While the appearance of both Peter Cushing and Carrie Fisher in Rogue One left most moviegoers impressed, there were still those that were a little freaked out by the uncanny valley that their combined presence presented. A full Star Wars movie with one of these characters at the fore would only increase this feeling, and considering that Carrie Fisher died less three months ago it still feels early to be discussing such matters.
Clearly, though, this is a topic that's going to be reared again and again in the near future. In fact, Leonard Nimoy's son was even asked whether he'd have a problem with his dad being given the Rogue One treatment recently. Adam Nimoy insisted he'd be fine with it, and it's more than likely that a studio will take a prolonged plunge with an iconic character sooner rather than latter. We'll just have to wait and see
Rogue One: A Star Wars Story will be released on Digital HD on March 24, before arriving on Blu-ray on April 4. While we wait, you can check out Ingvild Deila's full discussion with Jamie Stangroom regarding her work on Rogue One here.
Your Daily Blend of Entertainment News