How Helen Mirren Ended Up In The Fate Of The Furious, According To Vin Diesel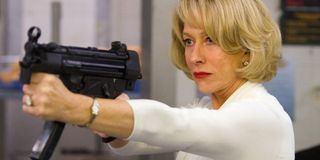 It has to be said that the announcement that Helen Mirren would be starring in The Fate Of The Furious left most moviegoers shocked. At the same time, though, they couldn't help but immediately be intrigued about the sort of character she would be portraying, and how exactly she got involved in the high-octane blockbuster. We now finally have the answer to the latter, as Vin Diesel has revealed that it was Helen Mirren herself who requested that she got a role in The Fate Of The Furious, and Vin Diesel then duly obliged.
Vin Diesel himself was the one who recalled the above story to Total Film, explaining that the Oscar-winning actress bee-lined straight for the Fast & The Furious stalwart at a glitzy party, and the rest, as they say, is history. Vin Diesel remarked:
he identity of Helen Mirren's character in The Fate Of The Furious was kept secret for a long time, as she's been kept to the sidelines in the trailers for the upcoming blockbuster. However, last month it was revealed that she will be playing the mother of Owen (Luke Evans) and Deckard Shaw (Jason Statham), who played the villains in Fast & Furious 6 and Furious 7, respectively.
Because there's still a lack of information surrounding her role in The Fate Of The Furious, we don't yet know if we're actually going to get to see Helen Mirren revving it up behind the wheels of a car. Something that would be a delight for sore eyes. What we do know, thanks to the latest trailer for The Fate Of The Furious, is that in their pursuit to try and top the gravity-defying antics in its predecessor, we will get to see Dwayne Johnson pushing a torpedo away from his high-speeding car with his bare hands. It's going to take a lot for The Queen to top that, but she's already repeatedly proven throughout her regal and eclectic career that she has the talent to do just that.
The trailers for The Fate Of The Furious have done a superb job of suggesting that it will only build upon the previous installments to the franchise, which have, for the most part, been rollicking fun, even if they sometimes verge on being brain-dead instead of just mindless. You can check out the latest trailer for The Fate Of The Furious below ahead of its release next month.
Glorious. The Fate Of The Furious, and Helen Mirren's role within it, will be revealed when it finally hits theaters on April 14.
Your Daily Blend of Entertainment News