The Fly Is Getting A Remake, Here's Who May Direct It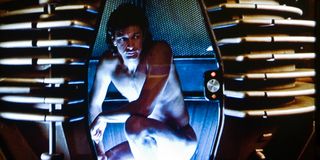 All is fair in love, war and Hollywood remakes. It doesn't matter how beloved a film is, there's a very good chance that a studio will get their mitts on it and try to rework it for a modern audience. Case in point, David Cronenberg's 1986 sci-fi horror classic The Fly is the latest film to get a remake. We even know who is going to step into these huge shoes, as it has been confirmed that J.D. Dillard will likely direct a script that he has co-written alongside his writing partner Alex Theurer.
Variety has reported that this deal isn't 100% complete yet, though, with 20th Century Fox still in negotiations with J.D. Dillard to bring the third version of The Fly to the big-screen. There's plenty of hope that J.D. Dillard will actually do The Fly justice, though. Especially since there's been a buzz whirling about the filmmaker ever since Sleight premiered at the 2016 Sundance Film Festival and was then picked up just five days later by WWE Studios and Blumhouse. It will finally be released on April 28.
But it's still a huge leap for J.D. Dillard to go from Sleight to The Fly, especially as the two previous incarnations are equally as beloved. The original 1958 film starred David Hedison, Patricia Owens, Vincent Prince and Herbert Marshall, and was based on George Langelaan's short story of the same name, which was released the year before. The Fly revolves around Hedison's scientist Andre Delambre, who turns into a half man and half fly hybrid after the latter flies into his matter transporter device as he's passing through.
A huge success upon its release, the 1958 version grossed $3 million from just a $500,000 budget, as well as received positive reviews. David Cronenberg decided to try and match The Fly with his own version in 1986, which was a much more twisted and gory effort than its predecessor. Thanks to Jeff Goldblum's terrific performance as Seth Brundle and his more barbaric transformation into Brundlefly, as well as the film's disgustingly compelling special effects, The Fly has not only turned into a bona-fide classic, but it also provided David Cronenberg with the biggest financial success of his career.
We still have plenty of time to wait and see what J.D. Dillard can muster with his version of The Fly, though, as he's currently in pre-production on the horror-thriller Sweetheart with Blumhouse, which will star Kiersey Clemons. Best bet is that it won't be with us until 2019 at the earliest.
Your Daily Blend of Entertainment News
Thank you for signing up to CinemaBlend. You will receive a verification email shortly.
There was a problem. Please refresh the page and try again.