The Funny Way The Godzilla Director Is Trolling King Kong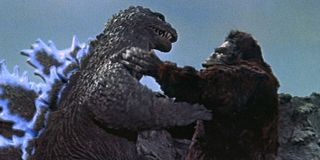 Cinematic rivalries have become big business in recent years, as movies like Batman V Superman: Dawn of Justice and Captain America: Civil War have shown how enthusiastic audiences can get when they're forced to pick sides. However, there's one specific silver screen rivalry that's far bigger (literally) than any showdown between superheroes: King Kong vs. Godzilla. On that note, Godzilla: King of the Monsters director Mike Dougherty just threw some serious shade at the iconic giant ape, and it's perfect. Check out the incident below to see for yourself.
We're not surprised to see Mike Dougherty expertly troll King Kong in Twitter photo. Between his work on movies like Trick 'r' Treat and Krampus, he has proven himself incredibly capable of finding the humor in monsters, maintaining a lighthearted sensibility even while bringing terrifying creatures to life. The horror director also gets bonus points for his expert use of Jay-Z and Kanye West's "No Church In The Wild" lyrics to define the dynamic between the enormous, atomic dragon and the giant, savage ape. He has officially thrown down the gauntlet with this picture, so we will have to wait and see how the Kong team responds.
King Kong and Godzilla have already faced off against one another numerous times over the years in some wildly entertaining brawls, but it's their upcoming silver screen showdown that has us particularly excited. Kaiju movies of the 1950s and 1960s had a certain charm to them, but modern technology has finally progressed to the point in which we can see a proper blockbuster smackdown between these two silver screen icons. Now that both monsters have properly been established in a cohesive cinematic universe, we will get to see them put their money where their mouths are to see who comes out on top.
That said, we still have quite a bit of time left until we see these two behemoth movie characters face off for the very first time in this new cinematic universe. Now that King Kong has received his introduction, the focus will soon shift back to the giant Japanese reptile for Godzilla 2 (which, based on the Skull Island post-credits scene, may also be set in the past) in 2019 before allowing these two legendary creatures to finally tear into one another in 2020. That gives them plenty of time to get mad and get ready.
With all of that in mind, now seems like the right time to start taking bets. Who do you think is going to win when these monsters finally battle each other? Let us know what you think in the comments section below to keep this conversation going!
Kong: Skull Island is currently in theaters. Godzilla: King of the Monsters is slated to hit theaters on March 22, 2019, and King Kong vs. Godzilla will debut the following year on May 29, 2020.
Originally from Connecticut, Conner grew up in San Diego and graduated from Chapman University in 2014. He now lives in Los Angeles working in and around the entertainment industry and can mostly be found binging horror movies and chugging coffee.
Your Daily Blend of Entertainment News
Thank you for signing up to CinemaBlend. You will receive a verification email shortly.
There was a problem. Please refresh the page and try again.