The Venom Movie Is Still Happening, Here's When It's Coming Out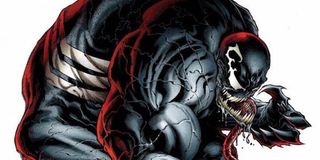 When Sony opted not to continue with the Amazing Spider-Man series in favor of working with Marvel directly on the Wall-Crawler's cinematic adventures, that put the kibosh on a number of spinoffs in development. One of those was Venom, centered on Spidey's symbiote-powered foe. However, around last time last year, it was reported that despite Spider-Man's move to the Marvel Cinematic Universe, Sony is still interested in making a Venom movie, and out of nowhere, it was announced today that the studio has scheduled it for 2018.
According to the Exhibitor Relations Twitter account, Sony has penciled in the Venom movie for release on October 5, 2018. Although last year's report stated that Venom is being "envisioned" as a franchise separate from what's happening with Spider-Man: Homecoming, today's tweet called it a "Spidey spinoff," calling into question whether Venom will actually be connected to the MCU or not. Regardless, being placed in that date means it will open the same weekend as The Girl in the Spider's Web from Columbia Pictures, a division of Sony Pictures. Exhibitor Relations also shared that The Mummy's Alex Kurtzman will direct Venom, but Sony has since confirmed that a director isn't attached yet, though Scott Rosenberg and Jeff Pinkner are on board as the new writers.
Venom is one of those major blockbuster projects that's spent a staggering amount of time in development hell. After 2007's Spider-Man 3 (where Venom was played by Topher Grace) came out, producer Avi Arad announced that a Venom spinoff was in the works, and even after Sam Raimi's Spidey series didn't continue, it stayed in development. When the Amazing Spider-Man series tried to build its own cinematic universe, Venom was intended to be one of the offshoot tales, along with Sinister Six and a female-centered movie. Following The Amazing Spider-Man 2's underwhelming performance, it was announced in early 2015 that Sony and Marvel were partnering to bring Spider-Man into the MCU, this scrapping those universe plans. But as per usual, Venom hung in there, and now Sony aims to have it out late next year.
There have been a number of individuals to hold the Venom mantle in the comics, but the primary two have been Eddie Brock and Flash Thompson; the former serving primarily as a super villain while the latter is a hero who struggles with controlling the symbiote's savagery. It's unclear which person will be Venom in the spinoff, although if the movie is aiming to have the eponymous protagonist be more of an anti-hero than a villain, then Flash would make more sense since it's easier for him to go on his own adventure without involving Spider-Man.
We'll keep you updated on how Venom is progressing as more updates comes in, but let us know what you think about this release date and director news in the comments below.
Connoisseur of Marvel, DC, Star Wars, John Wick, MonsterVerse and Doctor Who lore. He's aware he looks like Harry Potter and Clark Kent.
Your Daily Blend of Entertainment News
Thank you for signing up to CinemaBlend. You will receive a verification email shortly.
There was a problem. Please refresh the page and try again.