Who Green Lantern Corps May Be Eyeing To Direct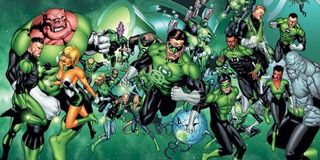 Green Lantern didn't off to a great cinematic start in 2011, and plans to continue the series starring Ryan Reynolds as Hal Jordan were eventually scrapped after that first movie underperformed critically and commercially. Fortunately for fans of the Emerald Knight, Warner Bros is giving the Green Lantern mythology another shot for the DC Extended Universe. So far Green Lantern Corps is still early in the pre-production stage, with David Goyer and Justin Rhodes writing the script. But with the search for a director also in motion, there's word that Warner Bros may not actually be looking that far for the right person, as Goyer may also take that position.
During today's episode of Meet the Movie Press, The Tracking Board's Jeff Sneider said that David Goyer could wind up directing Green Lantern Corps. If Goyer were to snag the director's chair for himself, that would be his third job on the movie, along with being a co-writer and producer. Goyer's cinematic movie directing credits include Zig Zag, Blade: Trinity, The Invisible and The Unborn. He also directed two episodes of the short-lived ABC series Flashforward and five episodes of the Starz series Da Vinci's Demons.
While David Goyer helming Green Lantern Corps is far from confirmed, it would make some sense. Besides already being involved with the blockbuster, Goyer has years of experience in the superhero genre both on the big and small screens. He wrote/co-wrote all three Blade movies, Batman Begins, Ghost Rider: Spirit of Vengeance and Man of Steel. He has story credits on The Dark Knight and The Dark Knight Rises. He's developing the Syfy Krypton series and wrote the pilot episode. This man has been around the block with Marvel and DC properties. While there's an argument to be made for bringing in a new face to oversee Green Lantern Corps and bring a fresh perspective, Goyer at least knows the ins and outs of the DC mythology, and he's directed enough projects that he would know what he's doing behind the camera.
The only notable details released about Green Lantern Corps so far is that it will star Hal Jordan and John Stewart in a Lethal Weapon in space-style story. Casting-wise, there were seven actors rumored to be considered for the Hal role back in January, ranging from Tom Cruise to James Marsden, while Moonlight actor Trevante Rhodes may have coyly hinted earlier this month that he's being looked at for the movie. There have also been reports that a Green Lantern will show up in November's Justice League, but it would be a more obscure, alien member of the Corps rather than one of the main human characters.
Green Lantern Corps is currently scheduled to be released on July 24, 2020, although with Warner Bros reportedly considering it among four other in-development DC moves to get ready for a 2017 shoot, there's a chance could see it in theaters sooner than that.
Connoisseur of Marvel, DC, Star Wars, John Wick, MonsterVerse and Doctor Who lore. He's aware he looks like Harry Potter and Clark Kent.