Star Wars Episode 8 Trailer: Here's Everything We Know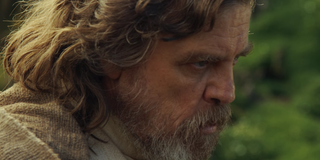 Rogue One: A Star Wars Story offered a refreshing change of pace for the franchise set in a galaxy far, far away, but now that it's had its time in theaters and is about to be released on home media, the focus is firmly placed on the next installment of the main series, Star Wars: The Last Jedi. For more than a year, fans have been slowly learning what to expect from Episode VIII, whether it's from official casting announcements or unofficial reports. Still, nothing beats watching that first trailer for a highly anticipated blockbuster, and the wait continues for that first public look at The Last Jedi. Fortunately, it sounds like the trailer is arriving sooner rather than later, so before that happens, let's look at what we know about The Last Jedi trailer so far.
When The Star Wars: The Last Jedi Trailer Might Premiere
Unlike Star Wars: The Force Awakens, Star Wars: The Last Jedi opted not to release a teaser preview over a year ahead of time, which makes sense. The Force Awakens marked the Star Wars franchise's return to the big screen after a decade (I'm not counting that animated Clone Wars movie), so Disney and Lucasfilm needed to start building hype and anticipation early. Now that both The Force Awakens and Rogue One have made it clear to audiences that the Star Wars franchise is back and heading into a new era, there was no need for The Last Jedi to take that approach. Which brings us to the main Last Jedi trailer.
Most major blockbusters like to drop their first trailer at least 6-8 months before release. At the time of this writing, The Last Jedi is almost exactly nine months away from hitting theaters, so we're almost upon that common release period. This is strengthened by Lucasfilm president Kathleen Kennedy saying last December that we'd start to see something The Last Jedi-related in the following spring, citing how the studio wanted to give Rogue One some "breathing room" before promoting the next movie. Some fans later speculated the trailer might be put in front of Beauty and the Beast since that's a fellow Disney release, but that didn't end up happening.
So aside from that general spring period, there's no official information on when the Star Wars: The Last Jedi trailer will be released. Unofficially, though, there's a certain event coming up that would be the perfect place to debut the preview: Star Wars Celebration, which will happen in Orlando from April 13-16. Not only does this Celebration take place in the same year as Episode VIII's release, it also coincides with the Star Wars franchise's 40th anniversary. If ever there was a perfect time to drop the first public look at The Last Jedi, it would be then, specifically on Friday, April 14, since that's when Kathleen Kennedy and director Rian Johnson will appear on stage. Don't forget that The Force Awakens released its first full-length trailer at the 2015 Celebration in Anaheim, so there's precedence for such a high-profile premiere. It's also worth noting that last month a report dropped that said The Last Jedi footage will premiere at the Orlando Celebration, but it would be a behind-the-scenes reel rather than a trailer. That's not nearly as exciting, but hey, it would be better than nothing!
By the way, if Adam Driver, a.k.a. Kylo Ren, had his way, there wouldn't be a Star Wars: The Last Jedi trailer released. While speaking to our own Sean O'Connell, Driver was excited at the prospect of people not getting to see any previews for the next chapter, because the less people knew, the more exciting it would be for people when they're finally seated in the theater, making watching the movie feel more like an event. While the Star Wars franchise has reached that rare level of fame and popularity that you could conceivably release the movie without any marketing and it would still perform excellently, Disney and Lucasfilm obviously would never take such a risk, and no doubt many Star Wars fans are thankful about that.
What The Star Wars: The Last Jedi Trailer Might Show
As for what the Star Wars: The Last Jedi trailer will show, that's harder to narrow down. One rumor from last month claimed we'll see Luke Skywalker, Leia Organa, Rey and Finn featured, but that hasn't been verified. However, it's possible that some of the featured scenes will be the same ones that were recently shown at a Disney investors conference. Some of the notable moments from that sizzle reel included Luke saying "Who are you?" to Rey, Rey levitating pebbles using the Force and practicing with Luke's lightsaber, Finn and Kelly Marie Tran's character in disguise at a First Order base, Poe Dameron flying in his X-Wing and Leia Organa with a hologram of the Resistance fleet behind her.
I suspect that at least one of these moments will make it into The Last Jedi trailer, but since a lot of hardcore fans have already read the description of what was on that sizzle reel, ideally the trailer will mainly be comprised of new material. All this being said, it's a good bet that whatever is shown, it will barely disclose anything specific about the plot, in traditional Star Wars fashion.
Finally, there's the running time of The Last Jedi trailer. If The Force Awakens' first trailer is any indication, it will probably be around two-minutes long. That's just enough time to given fans and regular moviegoers alike a sprinkling of cool scenes, while at the same time leave them wanting more. Even though Star Wars movies are guaranteed cash cows at this point, there's still a lot of pressure on Lucasfilm to make sure that this first trailer is something special, so keep your fingers crossed that they accomplish that in the near future. After all, the more people who are intrigued by what's ahead means more butts in theaters this winter, and that equals heaps of money!
Star Wars: The Last Jedi hits theaters on December 15, and make sure to check back in with CinemaBlend when that first trailer finally drops.
Your Daily Blend of Entertainment News
Connoisseur of Marvel, DC, Star Wars, John Wick, MonsterVerse and Doctor Who lore. He's aware he looks like Harry Potter and Clark Kent.