Ian McKellen Is Playing Gandalf Again, But Not In The Way You'd Expect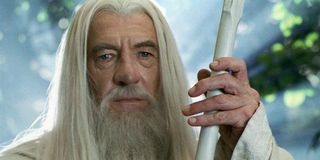 As well as being one half of the greatest best friendship that the world has ever seen (the other half being Patrick Stewart), Ian McKellen has also dabbled in acting rather successfully during his 77 years on this planet. In fact, his performances as Gandalf in the Lord Of The Rings and The Hobbit trilogies mean that his cinematic legacy is forever secure. It was widely assumed that we'd never get to see the English thespian portray the iconic wizard again., but it now turns out that Ian McKellen has a perfect swan song in mind for the character, as he is going to reprise his role as Gandalf, but this time on the London stage.
Ian McKellen will take to the stage to perform Shakespeare, Tolkien, Others, & You over nine nights in the Big Smoke this summer. And as the title suggests, it won't just be the role of Gandalf that Ian McKellen will be reprising. After he's retread moments and scenes from his illustrious past, he will also discuss his work with other actors and directors. Those lucky enough to be in attendance will even get to participate in some of the scenes onstage, while they'll also be able to ask McKellen any question they desire. All within reason, of course.
Those of you that are interested in seeing the stage and screen legend live will be able to do so at the Park Theatre, which is located in the north of the city in Finsbury Park. You'll have to be quick to snap up the tickets, though, because it actually only seats 200 people. Ian McKellen has decided to host this event so that he can personally help the Park Theatre survive. At the same time as announcing Shakespeare, Tolkien, Others, & You, Ian McKellen went into detail about his efforts, as he insisted (via The Hollywood Reporter):
After praising the theatre for establishing itself despite being open for just four years, Ian McKellen then explained that it requires £250,000 ($311,000) in donations a year to keep in business. Especially since it doesn't receive any public subsidy for its core costs. Ian McKellen added that the ticket prices for Shakespeare, Tolkien, Others, & You will be a little higher so that he and the people who buy them can support Park Theatre's "core ambition of producing accessible theatre throughout the coming years and furthering their work with the local community."
The big question now is which scenes will he perform when he's onstage? As The Bard himself is the first name on the title, we can expect Ian McKellen to open up his set with renditions from Hamlet, Romeo And Juliet, Much Ado About Nothing, Othello, Macbeth, Richard III or King Lear, before then delving into his more renowned work as Gandalf. Of course he'll also have to do some scenes from the likes of Gods And Monsters, Amadeus and Uncle Vanya for the die-hards in the audience, before ending it with a rousing depiction of his performances as Magneto. For his encore, he could even be accompanied by his BFF Patrick Stewart. But considering the entire point of his one-man show and the fact that the duo's combined appearance would probably bring the roof down, it might be safer if Stewart sat this one out.
Your Daily Blend of Entertainment News