Ian McKellen Will Marry Patrick Stewart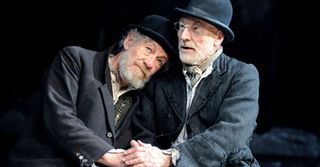 Patrick Stewart has recently become a beloved resident of my neighborhood in Brooklyn, Park Slope-- so beloved, in fact, that there's a Tumblr dedicated to his new zip code. It seemed impossible that Stewart could be more beloved on the Internet, actually, with his strong presence in the geek worlds of both Star Trek and X-Men, and his general cheerful attitude and willingness to participate in nonsense Internet videos.
But brace yourself, Internet. Because Ian McKellen is about to marry Patrick Stewart, and you may never recover.
No, the once-and-future Magneto and Professor X aren't actually going to be wed. McKellen will be stepping in to perform the marriage ceremony between Stewart and his intended, jazz singer Suny Ozell, at the actor's upcoming wedding. Talking on The UK's The Jonathan Ross Show (via EW (opens in new tab)), McKellen said "I'm going to marry Patrick" before clarifying, "How else do you put that? I'm going to officiate at his wedding." In fact, you can see the revelation for yourself in this video of his complete appearance on the show:
Stewart, usually a prolific tweeter, hasn't commented on the upcoming nuptials on his Twitter feed, but on the New Year he did post a picture of himself with Ozell, so you're welcome to Photoshop McKellen in-between them saying "Dearly Beloved, we are gathered here today…"
Given that McKellen and Stewart are about to reunite as the warring Magneto and Professor X in X-Men: Days of Future Past, we can hopefully look forward to a lot more stories about the friendship between the two. And if we're lucky, maybe a tweeted photo from the wedding itself.
Staff Writer at CinemaBlend
Your Daily Blend of Entertainment News
Thank you for signing up to CinemaBlend. You will receive a verification email shortly.
There was a problem. Please refresh the page and try again.