DC's Teen Titans: The Judas Contract Is A Must-Watch For Die Hard Fans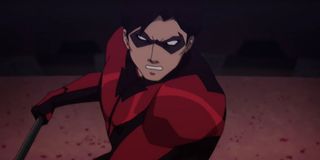 The live-action war between DC and Marvel continues to rage on, but the animated war was seemingly decided years ago. Detective Comics has consistently produced excellent animated adaptations of its beloved comic books, and while there have definitely been a few missteps in recent years, the studio remains as strong as ever. On that note, I had the pleasure to attend the world premiere of Teen Titans: The Judas Contract at Anaheim WonderCon this weekend. Although the adaptation of the classic Titans story arc will likely never top anyone's list of favorite animated DC movies; it's still a very enjoyable action romp that makes up for its narrative shortcomings with some great action and character moments.
After a breathtaking opening battle scene introducing Starfire to the Teen Titans, our story opens on the modern day incarnation of the team -- which consists of Nightwing, Robin, Starfire, Beast Boy, Raven, Terra, and Blue Beetle. The team is hot on the trail of Brother Blood and H.I.V.E's mission to siphon the life force out of powerful beings to turn Blood into a bonafide god. In the midst of this mission, the team finds itself meticulously hunted by Slade "Deathstroke" Wilson, who seems to have somehow acquired inside information about this ensemble of heroes.
As exciting as that overall story sounds, it is ultimately the film's biggest weakness. The entire H.I.V.E. subplot feels like an afterthought (despite it being an adaptation from the book), and the threat of Deathstroke could've easily been held up as the central conflict of the movie. That, combined with how out of place the opening battle sequence feels, makes the overall plot of The Judas Contract feel a bit disjointed at times.
That said, The Judas Contract is an adaptation in the most literal sense. It takes what it needs to from the source material, and deviates where creative flourishes are appropriate. These creative liberties are mostly welcome (such as the use of a Titans team that will be a bit more familiar to fans of Young Justice), but some other inclusions feel a little strange. I won't delve too far into spoiler territory, but there's a less than savory relationship between a very old villain and a much younger hero that reads even weirder in animation than it did in the comics -- which is saying something.
Speaking of animation, however, that truly is the area where Teen Titans: The Judas Contract really shines. The film is awash with top-notch production values, and it's clear that the animators brought their A-game to this particular project. The action sequences are smooth, coherent, and downright thrilling for the majority of the film. Furthermore, the sound design is genuinely great -- as punches and kicks land with stunning brutality.
These aren't city-leveling skirmishes. They are smaller scale action sequences that match the more clandestine role of the Titans within the DC universe, and the film is better for it. Every character gets at least one actually cool "hero" moment, and director Sam Liu very clearly knows how to use this ensemble to its fullest potential.
Beyond the action (and perhaps more importantly) are the character moments. Teen Titans: The Judas Contract is one of the best-balanced superhero ensembles in recent memory. The tone of this film smoothly oscillates between lighted-hearted comedy and intense action with incredible ease, and much of that is due to the phenomenal characterization. Beast Boy, in particular, deserves special credit for his ability to provide great comic relief, and the film itself deserves credit for knowing when to actively acknowledge his downright stupid decisions. Heroes have a tendency to be underserved when they act in large ensembles, but The Judas Contract manages to stand out as a film that knows when and where to focus on individual heroes. If we are ever lucky enough to receive a Teen Titans movie, this would be a great blueprint to pull from.
All in all, Teen Titans: The Judas Contract is far from the worst animated DC film in the comic book giant's vast catalog. Having said that, it's also far from the best. It is a perfectly serviceable Titans adventure that offers up plenty of thrills and some stellar character moments -- while also feeling a bit thinner than DC's more compelling fare. It's an animated movie that's well worth your time, but you will probably have an urge to throw on Mask of the Phantasm when the credits finally roll.
Teen Titans: The Judas Contract will be available on Digital HD on April 4; the Blu-ray and DVD versions of the film will hit shelves on April 18.
Originally from Connecticut, Conner grew up in San Diego and graduated from Chapman University in 2014. He now lives in Los Angeles working in and around the entertainment industry and can mostly be found binging horror movies and chugging coffee.
Your Daily Blend of Entertainment News
Thank you for signing up to CinemaBlend. You will receive a verification email shortly.
There was a problem. Please refresh the page and try again.