5 Scrapped DC Movies That Would Make Cool Animated Movies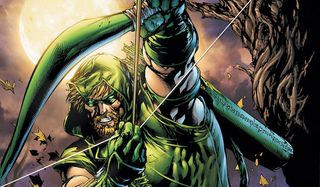 Since 2007's Superman: Doomsday, DC Comics has released a steady stream of animated movies each year, with 2016's releases including Batman: Bad Blood, Justice League vs. Teen Titans, Batman: The Killing Joke and Batman: Return of the Caped Crusaders. Whether these movies are direct adaptations of classic storylines or they're original tales using basic elements from the comics as framework, most of these movies have been entertaining direct-to-video watches that continue DC's long stretch of success with animation. Now we can't help but wonder if DC projects that were never released as live action features could be adapted for animation instead.
Last week, director Kevin Smith agreed with the idea that his script for Superman Lives, the project that would have starred Nicolas Cage as the Man of Steel, might make for a cool animated movie. While that idea sounded weird at first, we've since been thinking about if other failed DC Comics movies could be tackled the same way. With that in mind, here are five other scrapped cinematic projects from the DC universe that have the potential to be made into interesting animated movies.
Darren Aronofsky's Batman: Year One
Batman: Year One was faithfully adapted as an animated movie in 2011, but Darren Aronofsky's version of the tale sounded weird and bold enough that it could easily stand by itself and not feel like a retread of what's come before. After Warner Bros decided not to move forward with a follow-up to Batman & Robin (more on that later), they decided they wanted to start fresh with a reboot. One of the pitches for that approach was director Darren Aronofsky's vision of Batman: Year One, which would have been a significantly more violent kind of Batman movie.
It also took some liberties with the original story, like having Bruce Wayne work as a short order cook while trying to prove he had what it takes to become a defender of justice, as well as Jim Gordon being more of an action hero. DC obviously has no problem going into R-rated territory now with their animated movies, as evidenced by Batman: The Killing Joke and Justice League Dark, so this would be an excellent way to provide something shocking, yet unique, as a direct-to video release.
Justice League: Mortal
Justice League: Mortal nearly kicked off shooting in early 2008, but thanks to the Writer's Strike and behind-the-scenes difficulties, the project was scrapped. The script has since leaked online and a documentary delving into the failed production was announced last year, but it would still be worth adapting Justice League: Mortal as an animated movie so that the public can enjoy the complete story in a different fashion. The failed cinematic Justice League adventure would have seen Superman, Batman, Wonder Woman, Flash, Green Lantern, Aquaman and Martian Manhunter in conflict with Maxwell Lord. Thanks to some help from Talia al Ghul, he aimed to take down the superhero team Tower of Babel style, i.e. using their own weaknesses against them.
It's extremely unlikely that the original cast assembled for George Miller's Justice League: Mortal (Armie Hammer, Megan Gale, Common, etc.) could all return to voice their respective characters, but nevertheless, this movie deserves to finally be told in completion. And hey, if it's well-received, maybe it could kick off a series of movies starring these iterations of the superheroes.
Green Arrow: Escape From Super Max
Years before Arrow premiered on The CW, David Goyer wrote a Green Arrow movie script originally just titled Super Max, but later changed to Green Arrow: Escape From Super Max. This story would have seen Oliver Queen, who has been established as the Emerald Archer for years, framed for a crime he didn't commit and sent to Supermax, a heavily-fortified prison filled with super villains and rogue superheroes. While trying to escape, Green Arrow would have crossed paths with villains like Icicle, Riddler and Joker.
With Arrow in its fifth season, the Green Arrow: Rebirth comic book series earning excellent reviews and Oliver Queen having already enjoyed success in animation on projects like Justice League Unlimited and that Showcase short, now is the perfect time to put a Green Arrow-centric animated movie into the works. Since there's no word on whether Green Arrow will be used in the DCEU, let alone if his movie would use the Super Max story, why let this take on the archer go to waste?
Superman: Flyby
Like Darren Aronofsky's Batman: Year One, J.J. Abrams' Superman: Flyby story would have made some radical changes to its main hero. Some of the notable features of this Superman movie would have included baby Kal-El being launched from a not-exploding Krypton to specifically be raised by the Kents, Lex Luthor being revealed to be Kryptonian, Jor-El committing suicide and apparently a lot of "Matrix-inspired kung fu fighting." Look, Superman: Flyby is a story that would cause hardcore fans to riot if it was released in theaters as a live action movie, so in that respect, we're glad this wasn't made as the long-awaited fifth Superman installment.
However, this story does sound intriguing enough that it could work decently as an animated movie. Think of it as an alternate continuity tale, similar to Justice League: Gods and Monsters. Since Superman is one of the more popular subjects for DC's animated films, maybe the company should consider blowing the dust off the Superman: Flyby script for a different kind of telling.
Batman: DarKnight
There's no way around it: 1997's Batman & Robin is a bad movie. Whether you find it comically awful or absolutely despise it, this is the movie that killed off the original Batman movie series and paved the way for Batman Begins. That being said, in the weeks after Batman & Robin was released in theaters and collected negative reviews, DC and Warner Bros were still considering making a fifth Batman movie set in the same continuity. Batman: DarKnight was one of the ideas pitched to them, taking the Caped Crusader's mythology back to its dark roots.
In this story, Bruce Wayne had retired from the vigilante life and Dick Grayson was attending college. Back in Gotham City, Dr. Jonathan Crane's experiments into fear eventually resulted in his colleague, Dr. Kirk Langstrom, being transformed into a monstrous bat creature. With Man-Bat on the loose and Scarecrow out for revenge against those who wronged him, Bruce had to don the cape and cowl once more to clear his name (as Gotham City's citizens mistakenly believe Batman is the one responsible for Man-Bat's reign of terror) and take these new adversaries down. At the very least, Batman: DarKnight could be used to conclude the original Batman movie series in a (hopefully) better way than Batman & Robin did.
Connoisseur of Marvel, DC, Star Wars, John Wick, MonsterVerse and Doctor Who lore. He's aware he looks like Harry Potter and Clark Kent.
Your Daily Blend of Entertainment News
Thank you for signing up to CinemaBlend. You will receive a verification email shortly.
There was a problem. Please refresh the page and try again.