Why The Collector Isn't In Guardians Of The Galaxy Vol 2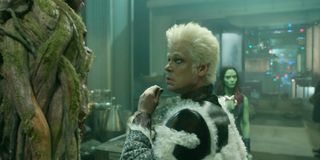 When Benicio Del Toro was originally cast as Guardians Of The Galaxy's The Collector it was hoped that he'd be reprising his role in the Marvel Cinematic Universe on a repeated basis. But the Academy Award winning actor unfortunately won't be appearing in Guardians Of The Galaxy Vol. 2. Writer and director James Gunn has now revealed why, explaining that there just wasn't enough room in Guardians Of The Galaxy Vol. 2 for The Collector despite the fact that he's actually making a bigger film this time around. Here's what James Gunn had to say about the topic in a recent FB Live chat.
It isn't much of a surprise that The Collector was dropped from Guardians Of The Galaxy Vol. 2, especially when you consider there wasn't much space for him in the original film, either. When you also factor in that Vol. 2 is primarily going to revolve around Peter Quill learning more about his true parentage, which will include seeing him meeting up with Kurt Russell's Ego. Then when you consider the film will also include expanded roles for Nebula (Karen Gillan), Yondu (Michael Rooker), and introduce the likes of Mantis (Pom Klementieff) and Ayesha (Elizabeth Debicki), too, something had to give. James Gunn's comments during his recent Facebook Live post make it clear that there are no hard feelings between the pair, though. In addition, he also insisted that he wants to work with the actor in the very near future, too.
At this point, it's safe to say that the addition of Benicio Del Toro to the Marvel Cinematic Universe hasn't been quite as staggering as many fans of Marvel films originally dreamed. In fact, his most memorable scene as the character actually came in the post credits scene of Guardians Of The Galaxy, when he was licked by Cosmos The Spacedog and then chastised by Howard The Duck. You can relive this scene, below.
Of course, Benicio Del Toro brightens up any film with his presence, as the Puerto Rican thespian is one of the most talented actors to have graced the silver screen in the last two decades. But any lingering disappointment Benicio Del Toro had with not appearing in Guardians Of The Galaxy Vol. 2 was probably softened when he was cast in a mysterious role in Star Wars: The Last Jedi. We'll get to see who exactly Benicio Del Toro is portraying The Last Jedi when it's released in December, while Guardians Of The Galaxy Vol. 2 should still do just fine without Benicio Del Toro when it's released on May 4. While we wait, check out the other cool movies that are headed into theaters soon.
Your Daily Blend of Entertainment News
Your Daily Blend of Entertainment News
Thank you for signing up to CinemaBlend. You will receive a verification email shortly.
There was a problem. Please refresh the page and try again.